10 Amazing Tricks to Selling Your Home
Posted by Erika Rogers on Tuesday, September 17, 2019 at 1:29 PM
By Erika Rogers / September 17, 2019
Comment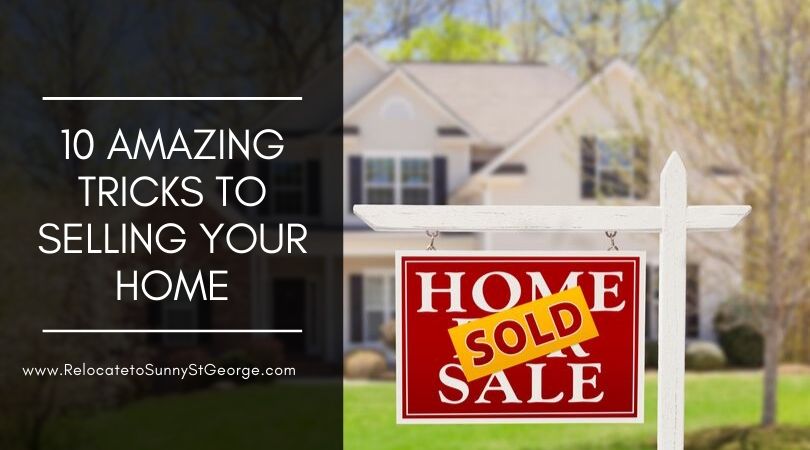 I don't know if this is necessarily a best-kept secret but there are some tricks and hacks to getting your home sold fast. Most people know you have to price it right, market it appropriately, and make it easy to show but are those the only tricks to getting a home sold fast?
Here are 10 amazing tricks to selling your home.
#1. Don't over upgrade.
I often tell my homeowners not to put thousands of dollars in upgrades in their home before selling. Sure, if you need new countertops or floors that's definitely something to consider, but don't go all out with high-end upgrades that aren't going to give you the best return on the investment.
#2. Hide the animals.
Not all homebuyers are animal lovers and many may be allergic so it's important to conceal any and all evidence of pets while your home is on the market. This means any dog toys, bedding, litter boxes, cages, food bowls, and bags of food. If possible, take the animals with you when you have a showing.
#3. Take yourself out of the home.
Buyers don't want to see your grandmother's collection of teapots or your amazing sports memorabilia. They want to see the house so the more you can depersonalize at the better. Make sure you put your personal belongings, collections, and personal photos in storage or pack them away for your next house.
#4. Empty all storage spaces Half-Way.
Before listing the home take everything out of closets, drawers, pantries, and cupboards and only put about half the items back. The more space the buyers see in all of these storage places, the more likely they are to purchase the home thinking there's plenty of space. And of course, this gives you a head start on the packing.
#5. Interview your agent.
Your agent should know how to sell and have a clear understanding of the multiple listing service. Choose an agent that does this full time and has a good book of business to refer to.
#6. Let there be light.
You want to maximize the light in your home because it's the one thing that every buyer says that most homes need more of. Open the windows, clean the windows, change out lampshades and increase the wattage if need be. Add solar lights to sidewalks and stairs, focal light on generic art pieces, and keep things bright and open during a showing.
#7. Focus on the kitchen.
You're not just selling your house, you are selling the kitchen. The kitchen should come first because it's one of the top places a buyers will look at when purchasing a home. If the kitchen is outdated you make it lower-priced offers.
#8. Be flexible.
Always be ready to show your home. Each mess you make should be able to be cleaned up within 30 minutes or less. This should give you enough time for that impromptu, last-minute showing.
#9. Price is everything.
Price is still the king when it comes to getting a home sold. Find out what your home is worth, compare with similar properties in the area, and then go about 5 to 10% lower than the maximum value. You'll be stampeded by buyers and potentially have multiple bids.
#10. The first impression is everything.
No matter what the inside looks like, if you don't draw the buyers in from the outside they'll never get past the front door. The first impression is key so this means having amazing curb appeal, fantastic photos, and beautiful staging everywhere you look.
More good stuff for homeowners and sellers: