17 Ways to Protect Your Home
Posted by Erika Rogers on Tuesday, May 1, 2018 at 10:13 AM
By Erika Rogers / May 1, 2018
Comment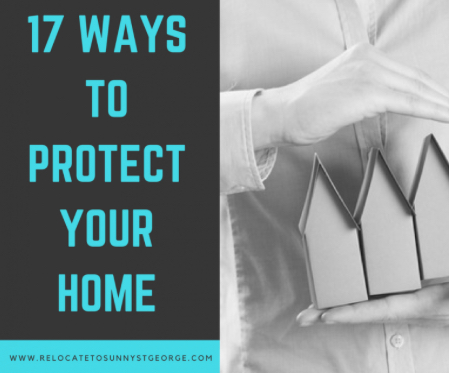 Protecting our home is more important than ever these days. I've been seeing so many commercials on new alarm systems in different ways to protect your home but it seems like that's just protecting against burglaries. There are several ways you can protect your home not just from man-made disasters but natural disasters and simple wear and tear protection as well. Here are 17 ways you can prepare your home for a variety of mayhem.
#1. Make sure your smoke detectors and carbon monoxide alarms are up-to-date and in good working order. Test them at least once a month and replace the batteries each year.
#2. By multipurpose fire extinguishers for the kitchen and the garage. Check the pressure annually.
#3. Make sure major appliances are plugged into wall outlets and not extension cords
#4. Make sure everyone in the house has an escape plan in case of a fire. There should be escape ladders in every upstairs bedroom.
#5. Change the locks on your exterior doors and confirm that all doors and windows lock securely.
#6. Add security bars to sliding glass doors.
#7. Trim away all shrubs near the home to reduce spots were burglars can hide.
#8. Install motion detector lights to illuminate dark areas of your property.
#9. Consider a home alarm system.
#10. Place water alarms under washing machines, sinks and hot water heaters to detect if a flood or leak is present.
#11. Install flood safe hoses on washing machines.
#12. Turn off the main water valve to prevent flooding when you're leaving for an extended period of time.
#13. Confirm that your homeowners' insurance covers any water and mold damage due to leaks, sewer backups, and floods.
#14. Carefully remove any weak branches or damaged trees so they will not fall on your house or damage anything during the storm.
#15. Install downspout extensions to carry heavy rainfall away from the foundation of the house.
#16. Do a routine monthly inspection of your home inside and out for any signs of damage.
#17. Repair or replace any broken items before small problems become large problems.
Whether you do all or just a few of these home inspection and protection tips, it will make your life and your home much more secure.
Related:
How long will things in your house last?
Smart Home Technology that will Boost Value
8 Ways to Make Sure Your Home is not a Burglar Magnet