4 Common Decorating Mistakes with Open Floor Plans
Posted by Erika Rogers on Tuesday, May 10, 2022 at 11:56 AM
By Erika Rogers / May 10, 2022
Comment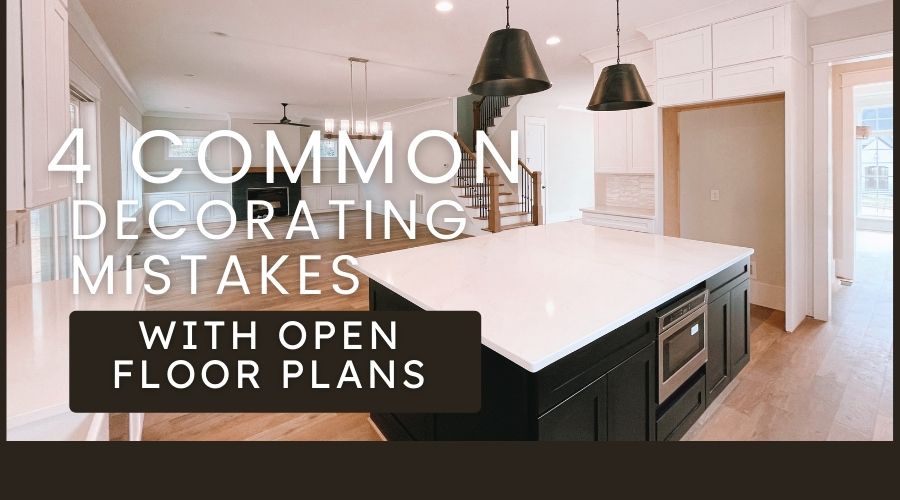 Open floor plans have long been popular for many reasons one of the biggest is it keeps families together in the same space as far as living areas are concerned and it makes for easy entertaining. Open floor plans make a home feel spacious and modern and it's easy to see the appeal of having an open layout in your living areas.
But without any defined borders for each "room" it can be difficult to properly decorate the space to make it feel exactly as you want it. This is why many decorators agree that open floor plans can be surprisingly tricky to decorate and style.
Here are some of the most common decorating mistakes many homeowners make with open floor plans and how to correct them.
No zoning
Open floor plans need to have zones or specific areas of use to be functional and continue to be visually appealing. For example, a space for sitting, space for dining, and a space for preparing meals. In a way, each of these acts as its own individual room. But as all the spaces are able to be seen at the same time from any point in the space you want to make sure there's some continuity between all of them.
An easy way to define the space into zones is using the sofa as a barrier to split the open floor space in half. You can additionally help to visually create a zone for your seating area with the use of a rug and maybe even a sofa table behind the sofa.
Using a bunch of different décor types
Keeping with one uniform style will help to keep open floor plans feeling separate but together. Using a hodgepodge of furniture and a bunch of different style items with your decor will feel like a big room full of mess. Though there are different zones within the same space they all need to coordinate with one another to feel like they are telling the same style of story since they are essentially all in the same large room.
You don't have to go all out matching matchy but you do need to choose one overall style theme that helps tie everything in your separate zones to one another. For example, you could select furniture and accessories in a color that you would like to pop and speak the style. You don't have to pick all the exact same shade you can pick different shades of the same color and still have it work together.
Using the blanket approach with lighting
Though often overlooked, lighting can play a huge role in the overall style and mood of a room. Because of this, many times lighting is installed during the building process in a location where it won't actually be useful. It can make it difficult to create a certain ambiance in the area within certain spots of your open space.
If you are building or remodeling it is a good idea to make sure you plan out how your lighting will work with the overall style of your room in the beginning steps. You want to think about where your furniture is going to be placed and make sure that lighting is positioned where it needs to be useful for your different zones.
Furniture that is too big
Though open floor plans offer more space it often gets homeowners into a design dilemma thinking they can order larger furniture. Furniture that is too big will create a flow issue and make it difficult to be able to easily walk through the area. I want to make sure there's plenty of space to move around the room.
For more information on open floor plans and homes in St. George that have open floor plans including all real estate in St. George and surrounding areas please contact us anytime.
More Great Tips for Homeowners and Buyers