4 Questions to Ask Before Making an Offer on a Home with a Pool
Posted by Erika Rogers on Monday, November 16, 2020 at 9:43 PM
By Erika Rogers / November 16, 2020
Comment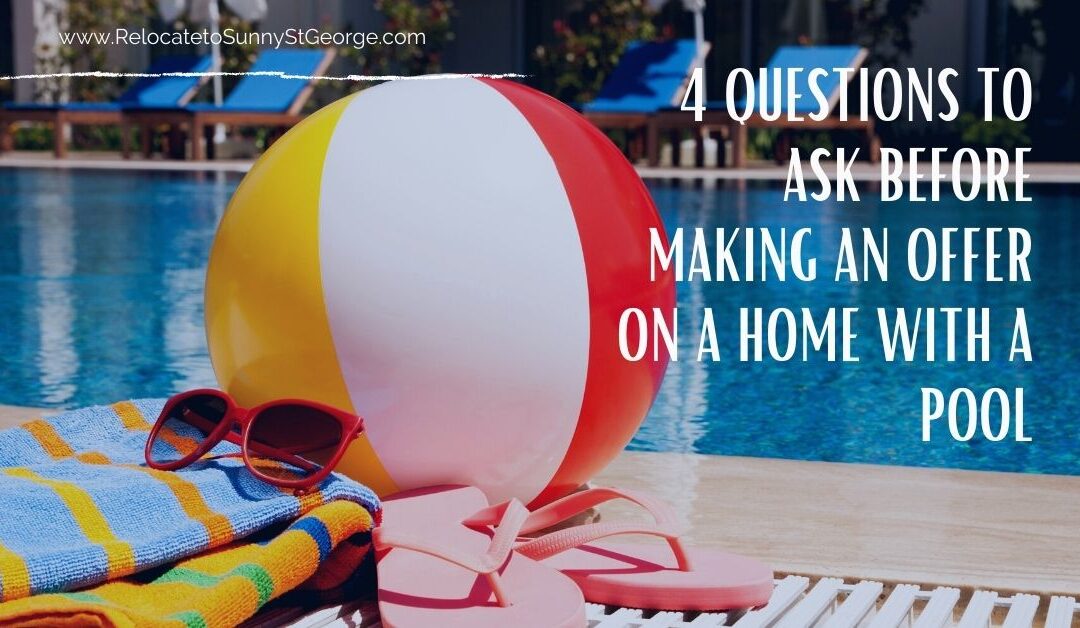 4 Questions to Ask Before Making an Offer on a Home with a Pool – Homes with private pools are incredibly popular in St. George especially since the pandemic limited the amount of public pool usage this year. Buying a home with a pool became even more popular. If you have never owned a home with a private pool before there are some questions to ask before you sign on the line to commit to an offer.
Is The Pool Safe?
The most important factor, especially if you have children is safety. Things like proper fencing and the right pool cover to help prevent drowning and accidents are crucially important. Does the pool have these things in place or will you need to invest money to do these things?
Is it in Good Condition?
Making repairs to a pool to get it back in proper working condition can be costly. A professional inspector will be able to look at/for some issues but to get a true and detailed look at what is really going on you should hire a pool professional to inspect it.
Is it Permitted?
It is not overly common, but it does happen from time to time. A pool is put in after the owner buys the home because they live in a hot climate and have enough yard space and they just want a pool so they decide to go ahead and put one in without the proper permission from the city or county. It is very smart to confirm the pool is legally on the property before making an offer.
How Much Does it Cost to Own a Pool?
It is easy to think about all the perks of owning a pool without considering what it will take to keep it up and how much that is going to cost. Pools require a fair amount of routine maintenance to keep them in optimal swimming, healthy, and working conditions. Doing the work yourself can take some time and hiring someone to take the time weekly can cost about $80-$100. In addition to buying chemicals for maintenance, it will also cost to make bigger repairs and age maintenance down the road as well. Since having a pool in your yard brings added safety risks it will also add to your required insurance costs.
For information on homes with pools around St. George or any available homes in St. George please contact me any time.
More Home Seller Tips