5 Expensive Mistakes Many Home Sellers Make
Posted by Erika Rogers on Friday, September 1, 2017 at 12:16 PM
By Erika Rogers / September 1, 2017
Comment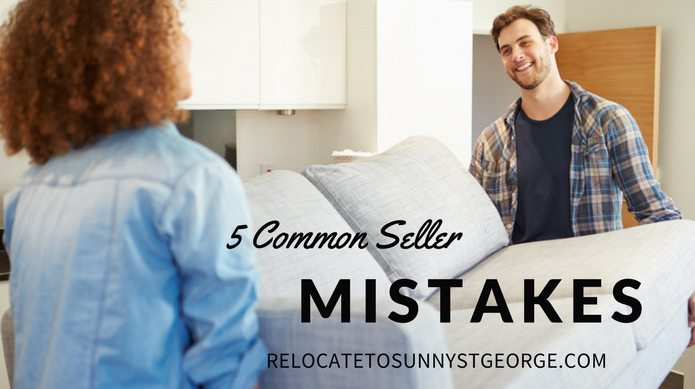 If you've been considering selling your house you are probably doing a little bit of research on the local market and what your home could be worse. While this is important, there are some serious mistakes that many home sellers make before even listing their property.
Here are probably the most common and most expensive many homeowners make when selling the property.
#1. Not doing enough research.
Many homeowners simply looked up with their home might be worth from one of the national real estate websites and get an astronomical estimate. These basic estimates that you're going to get from national real estate companies have never seen your house, know about the condition or extenuating situations that could affect the price. Most of these estimates predict high selling costs when that's not the reality at all.
Did you know that more than 90% of homebuyers start their home buying process online but many home sellers don't start there at all? Homeowner's should do their own due diligence and research agents, references, home prices, and similar properties in the area before even considering listing.
Read More: Make your home buyer-ready
#2. Hiring an amateur or newbie real estate agent.
Any license agent can sell a house but, a great agent can get top dollar for it.We'ree talking about hundreds of thousands of dollars here, and you don't want to trust that type of purchase to a brand-new agent or an agent that might be a friend of the family just to give them a break. You have to do what's best for you and that means finding an excellent, professional and seasoned agent that is very proficient at selling homes quickly and for top dollar. Ask the agent how many homes per year that they sell; if the number is under 10, you might want to try to find a different agent.
#3. Going with average photos.
Honestly, the photos can make or break a sale. It really does pay to have a professional photographer take amazing photos of your home. I'm not saying advertise something that really isn't there like using a wide angle lens to make a small room larger, but I am saying that these photos should represent the home and be the most amazing photos ever taken of your property. Many real estate agents don't even list a house without professional photography.
Read More: Easy Home Makeovers
#4. Being inflexible.
If you only allow buyers to check out the house between 10 AM and 2 PM three or four days a week, you're probably going to miss the right buyer. The more difficult you make it for buyers to look at your home, submit offers, and communicate with your listing agent, the fewer chances you're going to get on making a sale. You don't want to chase the buyer away. Be flexible, reasonable, and available.
More: The #1 Mistake Sellers Make
#5. Not insisting on good communication with your agent.
Everybody can drop the ball once in a while, but too many dropped balls could mean a missed sale. Keep your agent on task by holding them accountable for communication, timely responses, and feedback. You need to know how often your home is being shown, the feedback from buyers buyers agents, and general communication on offers and responses. If you're not getting that, you might need to find a new agent.
If you're ready to list your property give me a call today. We can start with the basic research to find out how much your home could sell for and how quickly it could sell in the St. George Utah area.