5 Factors to Consider When Choosing a Home for Retirement
Posted by Erika Rogers on Tuesday, April 3, 2018 at 10:29 AM
By Erika Rogers / April 3, 2018
Comment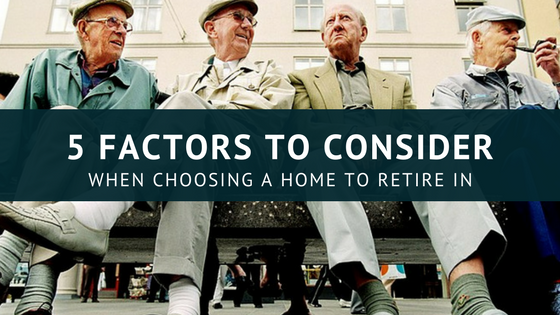 5 Factors to Consider When Choosing a Home for Retirement – Being retired doesn't mean you have to go to a "retirement home". But, you may be looking for one of the last homes to buy so that you can "retire in" that home. There are so many amazing 55 and over active adult communities throughout St. George but because there are so many choices you may also have other things to consider. Here are five factors to consider when choosing a home you want to retire in.
#1. Maintenance.
Maintenance definitely should be one of your top priorities or maybe I should say lack thereof. Finding a condominium that alleviates a lot of home maintenance may be ideal for you. The older we get, the less tolerance we have for cleaning gutters, shoveling snow, clearing brush, and handling outside maintenance. Paying a little bit extra in homeowner association fees means that someone else gets that responsibility. But, it's important to ask what your association fees cover. Don't just assume that everything is taken care of. Make sure you get what you're paying for and what really matters to you.
Read More: Active Adult Communities and Their Unique Amenities
#2. Security.
As much as we don't like to admit it, the older we get, the more targeted we are for scams and burglaries. It's important to find a home or community with security features such as a guard gated entrance, resident only access, and even an in-house security system.
Related: How old is too old to get a mortgage?
#3. Pets.
Pets can definitely be some of our best friends so if you want to bring your four-legged friend along make sure the community allows for it. This might be an afterthought once you move in only to discover your dog can't, too. Check with the Association and/or the community on their regulations and rules for bringing your pets.
#4. Mobility
Getting around the house may be a breeze right now but if this is one of the last homes you think you'll own, mobility needs to be considered for the future as well. People are living longer and more active in retirement but you still want to make sure your home is accessible down the line. Installing handrails and making sure hallways and doorways are wide enough could be a good thing to look for when viewing homes.
#5. Convenience.
How close do you want to be to family, friends, the nearest golf course, or the closest coffee shop? Consider your daily lifestyle and how close to conveniences you really want to be. Many communities have everything you're looking for right in the neighborhood, but of course, you might want to be close to family, adult children or grandchildren as well. This is something to consider when choosing the right home to retire in.
Read More: What to look for when touring 55+ communities
When it comes to finding a home you feel comfortable enough to retire in, it's important to evaluate all the different areas of your life both now and to predict what the future may hold as well. Feel free to give me a call and let's get together to discuss the possibility of finding the perfect home for you to retire in.