6 Signs of an Undesirable Neighborhood
Posted by Erika Rogers on Monday, January 24, 2022 at 12:01 PM
By Erika Rogers / January 24, 2022
Comment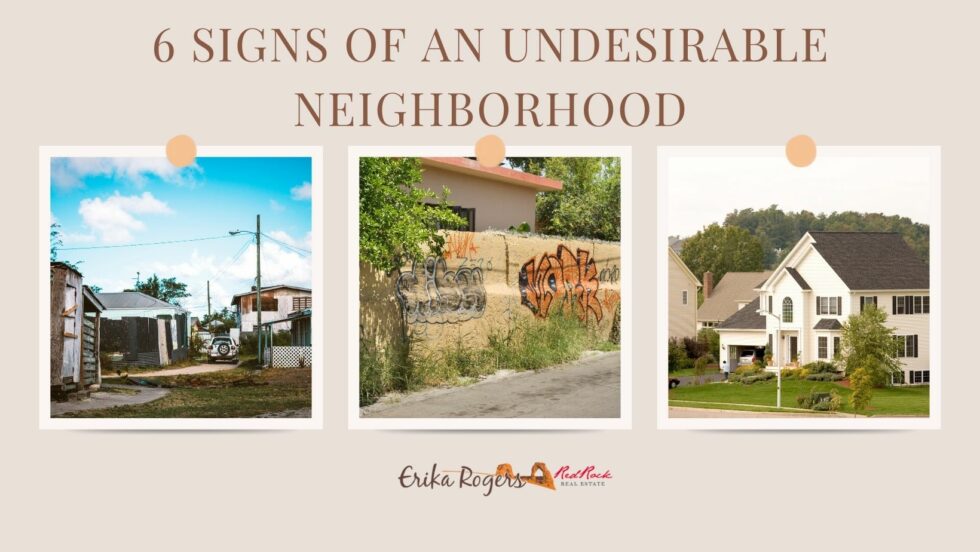 Before you sign and date on those last lines and agree to pay a large sum of money for a home, you want to make sure the neighborhood is really as it seems. You can easily change your home to better fit your style, but you cannot easily change the entire culture of the neighborhood that it is located in.
Spotting a less-than-ideal neighborhood is not always easy. It can require a little bit of digging to ensure a neighborhood is a good one to move to.
Here are 6 Signs of an Undesirable Neighborhood
There are A Lot of Houses for Sale, A Lot
There's nothing unusual about two or three houses being listed for sale in the same couple of blocks, or even on the same street, but if you see what seems to be an abnormal amount of for sale signs in the area you might want to rethink your purchase in the neighborhood.
If there is an alarming number of for-sale signs in the neighborhood it could point to several reasons. You may want to ask yourself the question, "why are so many people quick to leave?" There is one reason that has nothing to do with it being a bad neighborhood and that is that the residents there are reaching retirement age at the same time and looking to move to a more retirement-friendly housing solution.
Schools in the area are enrolling fewer students
Schools in thriving neighborhoods and communities will have a steady enrollment in their public schools. In fact, the most in-demand neighborhoods will have a high enrollment in their public schools because everybody wants their kid to be able to take advantage of the great schools in the area.
There are several reasons that numbers decrease within a public school including having a reputation for poor management that has parents choosing to choice over to other schools or choose a charter or private school instead.
The surrounding area is highly industrial
A few modern amenities within walking distance from your home could be a great asset to living within a neighborhood. But some businesses create a lot of noise and as such will impact your daily quality of life and peacefulness within your home.
Make sure to take notice of the kind of commercial businesses around the neighborhood you plan to live if there are any. If there is a nearby industrial park you should think twice about how much you may enjoy the neighborhood. If you prefer a quiet neighborhood, you'll want to make sure that the surrounding businesses are quiet ones that do not produce a large amount of traffic on the streets around them or noise.
A large number of empty storefronts
If the commercial areas around your home struggle to hold businesses and have vacancies this can be a concerning sign. A high number of empty storefronts could mean that the area is struggling to thrive commercially.
This can also be a signifier that the neighborhood has been in decline for some time. It could in some rare cases point to a shift in the ability for homeowners to afford their homes and possibly a shift in the quality of the neighborhood as homeowners began to struggle to keep up their properties.
It feels like a page out of the Stepford Wives novel
While most people when checking out a neighborhood look for the things that are wrong or unkempt, it could be an equally bad sign if the neighborhood is too well-groomed or seems too good to be true.
If every home seems to have a lawn that is perfectly groomed and they all look almost exactly the same you may want to ask yourself if this is due to a homeowner's association that has extremely strict rules. This could be a problem when you move in as it could feel like you have little to no freedom when it comes to choices for the outside of your home.
No parking
Of course, you will make sure that you have plenty of places to park your own personal vehicle as well as your spouse. But what about your friends when they come to visit? Or if you have children or are planning to have children while you live in the home, what about when they are driving age and have a car they need to park somewhere?
You want to make sure that there is plenty of parking along the street where you live to accommodate these things. A great trick to knowing if there is going to be ample parking on most occasions for visiting friends or for extra drivers coming of age in your home is to visit the neighborhood on a weeknight or weekend when things are busier and cars are usually parked in the neighborhood.
For more information on purchasing a home in Saint George and surrounding areas please contact me anytime.
More on Home Buying