7 Little Known Risks of Purchasing a Foreclosed Home
Posted by Erika Rogers on Monday, January 18, 2021 at 9:16 PM
By Erika Rogers / January 18, 2021
Comment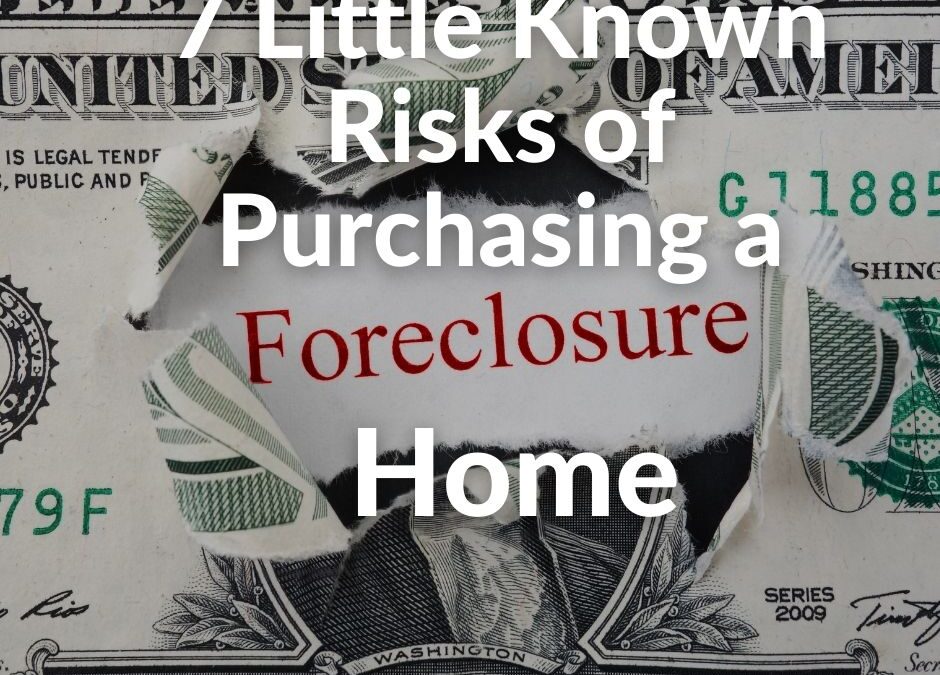 Purchasing a foreclosed home can be a means of getting into a property with all of the main attributes you love or need in a new home, but there are some good things to know when it comes to purchasing foreclosed properties. Some foreclosed homes may end up costing more than a traditional home, especially if the buyer is not aware of what to look out for.
If you are considering the purchase of a foreclosed home, here are some things to be aware of and look out for in the process.
Destruction of Property: In some cases, a foreclosed home gets neglected or purposely destroyed. It is not uncommon for a home to be in decent shape or have minor issues when you walk through it only to discover the home has been badly ripped apart as a last frustration of the former owner or by a vandal that has broken in after it was abandoned. If you buy the home at auction and do not get to see it first the chances of these things happening becomes a little higher. This can also mean the home is stripped bare of valuable components like copper piping, appliances, lighting, flooring, etc.
Poor Maintenance: A large percentage of foreclosed, short sale, and REO properties are in a state of needed repair. Some homeowners that face the financial hardship of being unable to make home payments sometimes also lack the means to be able to make repairs to the home and the bank will not offer to get these things cleaned up, the home is sold "as-is." Many people expect to find minor damage in these properties and because they are not required to have an inspection they don't get someone to look into the major safety areas only to be surprised later with big issues.
Half or Poorly Done Renovations: Some homeowners get in over their heads when renovating their homes and find themselves no longer able to afford things. Some homeowners in an effort to save money do the work themselves with little knowledge of how to do something correctly and that a permit is required. Finding these situations in foreclosed homes is highly likely.
No Utilities: In some foreclosed homes the electricity and water is shut off. This is done by the owning bank in efforts to save money and detract people from breaking in and living in the home.
Items Left Behind: A good number of former homeowners often leave behind several items on a foreclosed property. This can either be because they needed to vacate quickly or because they do not have the means to pay for disposing of items they no longer want or need. Be prepared for the chance of a large disposal fee to get rid of less than desirable items left behind.
Landscaping in Disrepair: If a home has been vacant for a long amount of time, there is no one there to take care of the yard work. This will take some time and a little bit of money to get the land healthy again.
Judgments and Liens: Some homes can come with liens or judgments due to the previous homeowner not paying other bills when it comes to the house. A common lien that occurs with foreclosures is a tax lien. This is when the previous owner neglected to pay the property taxes due on a home.
Buying a foreclosed property can be a very good way to save money on a nice property or at least one with good bones and the potential to become one. They can also end up costing more than purchasing a home traditionally. The best thing to do is be prepared and knowledgeable and seek the help of a professional real estate agent through the process so you have the best picture of what you are investing in.
For help finding homes for sale in St. George and surrounding areas please contact me any time. I am here to help you find a home you love.
More: