7 Reasons to Buy an Investment Property in St. George
Posted by Erika Rogers on Saturday, September 2, 2023 at 1:15:04 PM
By Erika Rogers / September 2, 2023
Comment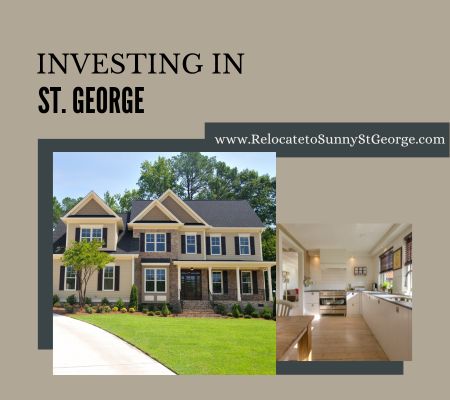 After deciding to grow your net wroth, work toward financial freedom, or build generational wealth by investing in an income property, the next question is "where?" Whether you are looking for a short term rental or something that's ideal for long term tenants, St. George is a great option for your investment property; keep reading for 7 reasons that's true.
1. It can become your retirement home in the future
Thanks to the excellent potential for appreciation and the fact that St. George is a great place to retire, buying an investment property here can be a smart retirement strategy.
You can invest in the home you will one day retire in now, allowing the rental income to cover the cost of the investment and getting today's price for tomorrow's plans. Depending on how much time you have before you plan to retire, you may be able to come close to paying off your property by the time you are relying on your retirement income.
2. St. George has a strong local economy and a substantial growth trend
St. George has experienced steady economic growth in recent years, driven by a diverse range of industries, including tourism, healthcare, technology, and manufacturing. A robust economy often leads to increased demand for housing, which can be favorable for real estate investors.
The city has a history of rapid population growth, and this trend is expected to continue. An expanding population typically creates higher demand for housing, both for homeowners and renters.
Both long term renters and tourists present a steady demand for rental properties in the area, a key factor to success as a real estate investor.
3. It boasts a scenic location
St. George's beautiful natural surroundings, including the nearby Zion National Park and other recreational areas, make it a popular destination for tourists. This can lead to opportunities for short-term rental income through platforms like Airbnb. St. George has generally experienced low vacancy rates in the rental market due to its growing population and tourist appeal. Low vacancies translate to a profitable investment for you.
4. Take advantage of tax benefits
Utah offers favorable tax conditions for real estate investors, including no state-level capital gains tax and relatively low property taxes. As always talk with your accountant and/or tax professional before making a decision about your investment.
5. St. George is home to abundant healthcare and education opportunities
The city is home to reputable educational institutions, including Dixie State University, and has a well-developed healthcare sector. This can attract students, faculty, and healthcare professionals, creating rental demand.
6. St. George is known for offering a wonderful quality of life
St. George is known for its outdoor recreational opportunities, mild climate, and overall quality of life. This can make it an attractive place for retirees and remote workers, leading to potential investment opportunities in housing.
7. You will find a wide range of prices in St. George
Whether you are looking to invest in a large, luxury home or an affordable condo, St. George offers a bit of everything. It meets the criteria for nearly all budgets, so that you are almost certain to be able to find that property that's on your mind.
If you would like to learn more about investing in real estate in St. George, contact us any time.