7 Ways to Freshen Up The Front Porch
Posted by Erika Rogers on Monday, March 22, 2021 at 7:25 PM
By Erika Rogers / March 22, 2021
Comment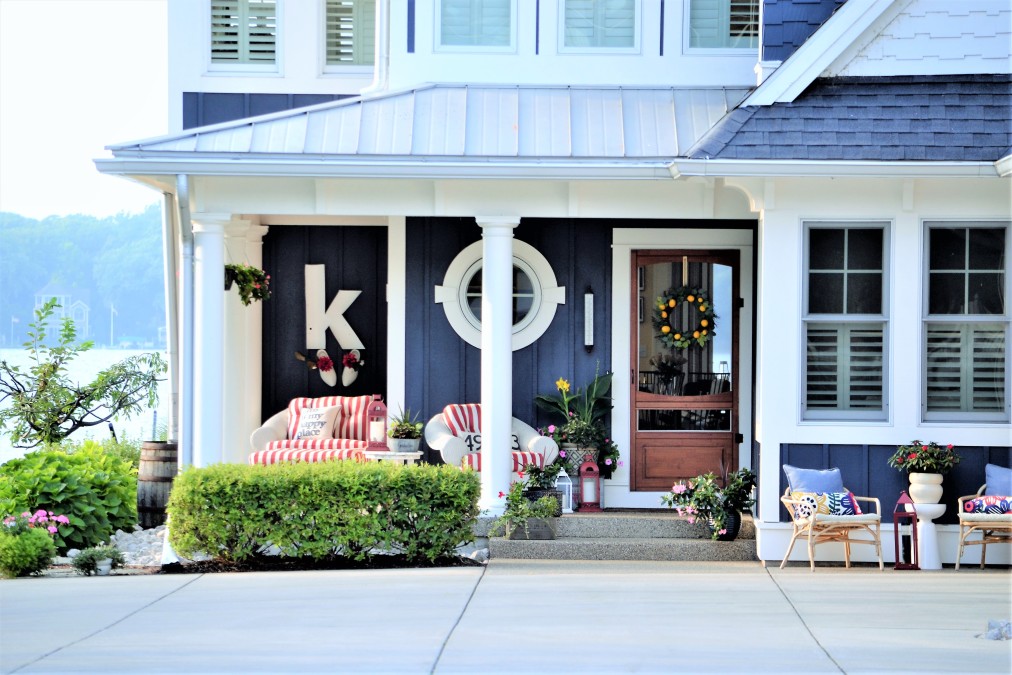 The outside of your front door sort of tells a story about the home you are about to walk into. It says a lot about a home. This space is an opportunity to showcase personal style, display cleanliness and organization, and even to provide curb appeal. Whether a front exterior entry is just a front door and a small bit of patio large enough to stand on or a large welcoming wrap around porch, the design outside of your front door should not take a back seat to other areas of the home.
Here are some ways to freshen up your front door from the outside to bring more style and curb appeal to a home.
Layered Doormats
Skip the tired too small door mat and try layering a couple to bring style and visual interest as well as create a sort of welcome sign. The most popular way to layer a doormat right now is to use a thin larger mat underneath in a bold pattern and a smaller more simply styled functional one that can scrub the soles of shoes on the top.
Swing Chairs or Rockers
If you have a larger porch area creating a place to hang out is very appealing. Swing chairs are very popular right now and do not take up much room. They are sort of the much smaller and updated way to do a beloved porch swing.
Vertical Garden
Bring a touch of life and cheerfulness to the walls with a vertical planter filled with fresh plants. This is a great option for all spaces, especially those with small foot space outside the front door.
Stenciling
Some strategically done stenciling on a concrete front entry can bring some visual interest and style. Go with a pattern that complements the overall outdoor style of your home. To keep it easy and appealing to most people stick with neutral colors of paint. You can choose a faux stone pattern or Moroccan print for example.
A Chandelier
Bringing in an upscale or more ornate lighting fixture will instantly add an upscale touch of stunning visual interest to a grand covered front porch area.
Paint the Steps
Even if all you have leading up to your front door is a set of two or three steps, painting them a complimentary or appealing contrasting color will bring interest to the front door. It is a simple way to bring some wow factor to the front entry of a home.
Pops of Color
A few pops of contrasting color will go a long way to make the home feel welcoming, cheerful, and vibrant. Some great ways to do this are with planters, fresh seasonal flowers in planters, a welcome sign, or a front door wreath.
Making the most out of the style around your front door is one of the most important things you can do for the curb appeal of your home, especially if you want to make a good impression for potential buyers when selling.
For more information on selling your home in St. George and surrounding areas please contact me any time.