8 Different Types of Home Exteriors
Posted by Erika Rogers on Monday, September 26, 2022 at 10:05 AM
By Erika Rogers / September 26, 2022
Comment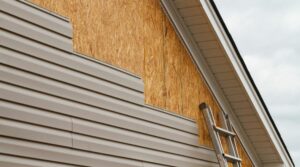 8 Different Types of Home Exteriors – When it comes to making sure that your home is strong and has the curb appeal to impress, you must consider your siding. There are many factors to consider before taking that step including types of siding, materials, and colors. However, this is easier said than done. With so many different siding options to choose from, it can be a bit overwhelming.
8 Different Types of Home Exteriors
Vinyl Siding
Vinyl siding is a fairly popular choice for homes for a few reasons. First, everyone is fairly familiar with vinyl siding. Because of this, it makes for a safe choice for homeowners because they are already knowledgeable about the product. In addition, it is also one of the most affordable types of siding, as it is an economic option. However, this does make it not as durable as some of the other siding options available.
Insulated Vinyl Siding
Next up, we have insulated vinyl. What makes this different from regular vinyl is that the insulation is built right into the ridge of the panel. Having the insulation set up this way helps to insulate the home better and overall helps secure the temperature of homes, which can help save you money. It also helps make it more durable, meaning you may be spending less on repairs or replacement siding.
Hardie Board Siding
If you think siding that contains cement would be very durable, then you'd be right. Hardie Board siding is extremely strong and can handle all sorts of objects and elements thrown it's way.
Natural Wood Siding
While most other siding materials attempt to recreate and capture the true look of wood, only real wood shingles can have that undeniable aesthetic. Real wood shingles are still the choice of many homeowners, especially in the west. Its texture and curb appeal can't be matched for many who choose not to go the synthetic route. Installing real wood shingles can be a costly endeavor, but ultimately worth it in the end. With wood siding comes the benefits of being able to easily paint your house to change its look. You can also stain or re-stain for an added boost in curb appeal.
Manufactured Wood Siding
Other wood sidings include cedar shakes, engineered wood, and board and batten. Cedar lasts up to 100 years and ages gracefully. It might be the most maintenance-free one of them all. Board and batten or slats can give your home's exterior a beautiful aesthetic not often seen by using basic shingles. And engineered wood siding is just what it sounds like. It's wood siding that has been manufactured to only look real but is in fact made of a blend of materials.
Metal Siding
Metal siding and roofing have both been on the rise and becoming more and more popular in residential homes. Despite its expensive cost upfront, the longevity and durability of metal siding make it worth it. Metal is great for homeowners looking for sustainable products because even if their siding is replaced, the used materials are completely recyclable.
Fiber Cement Siding
Fiber cement siding is a high-quality material that can look and act like vinyl siding, cement siding, and wood siding, but with added durability. Fiber cement siding is manufactured to withstand the elements and keep your home safe and secure without sacrificing the look.
Brick
Everyone loves a gorgeous brick house. They are timeless beauties that tend to stand the test of time both structurally and aesthetically. Often brick is used as the structure of the home, but people are also using brick siding panels to bring the same aesthetic as the real thing, but at a much cheaper option. Brick is made of some of the most durable and abundant earthly materials, clay, and shale. They are incredibly eco-friendly and can be used or re-used for many things.
There are many types of durable siding on the market, read into them carefully as you decide what you are looking for in the home you want to buy.
For more information about real estate in the St. George Utah area, contact our office.
More for Homeowners