Affordable Kitchen Upgrades For A Small Budget
Posted by Erika Rogers on Tuesday, November 25, 2014 at 11:35 AM
By Erika Rogers / November 25, 2014
Comment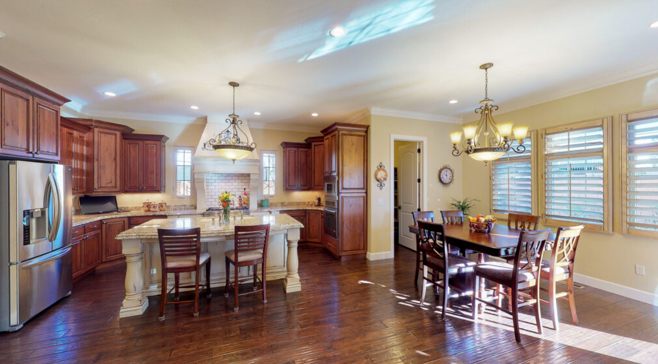 When you are remodeling on a budget there are still plenty of affordable upgrade options that can have your kitchen looking luxurious without the fancy price. Whether you are upgrading your kitchen, bathroom or any other room in your home, you can use these insider tips to make your budget stretch farther while remodeling.
Affordable kitchen upgrades:
√ Countertops – Natural stone like granite, marble or soapstone can give your kitchen the look of pure elegance; however, it comes with a hefty price tag if it is bought and installed in solid pieces. A less expensive option that will offer the same appearance is to have the stone installed in pieces. Once the stone is cut into squares, it can be applied like ceramic tiles with grout. An added bonus: the individual squares can be easily replaced if severely damaged. Or, consider a granite overlay on your existing countertops.
√ Cabinets – Custom built cabinets can really personalize your kitchen. There are tons of finish options, trims, colors and more to choose from to show your own style. While custom built cabinets are expensive, you can get the look of custom-built cabinets at a lower cost by ordering semi-custom cabinets. Simple modifications such as height, depth and width can provide a more finished look. Mixing cabinet heights throughout the kitchen creates a further customized appearance.
√ Backsplash – Natural stone backsplash can finish off your kitchen remodeling in a beautiful way. It also helps protect your wall above your countertops. Again, natural stone can be expensive so rather than adding the usual horizontal backsplash, consider turning those tiles sideways like a diamond. This provides a unique look and also saves on the number of tiles you will need.
√ Flooring – Wood flooring in your kitchen is a wonderful option especially when you put it throughout the home. However, hardwood flooring can be a budget breaker. You can consider laminate flooring instead to save money. Pergo flooring is much less expensive and available in a variety of wood grain patterns. Even more important, the average eye will not be able to discern the difference.
√ Crown Moldings – Ornate crown moldings is a great way to add architecture to your plain kitchen, but ornate molding can cost a fortune compared to ordinary molding. Rather than using large expensive pieces of ornate crown molding, you can purchase smaller molding that can stack together to create the illusion of larger, ornate pieces.