Best Activities for Active Families in St. George
Posted by Erika Rogers on Monday, August 23, 2021 at 3:06 PM
By Erika Rogers / August 23, 2021
Comment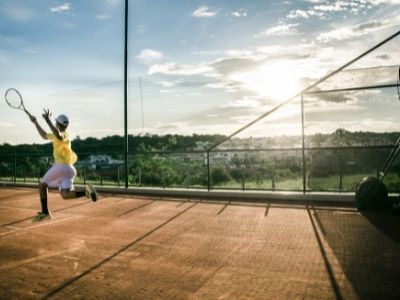 St. George is well-known for its amazing outdoor recreational activities, but which ones are great for adventurers of all ages? What activities can families enjoy together on a day out in the St. George area?
Here are some of the best family-friendly activities for active families in St. George.
Play in the Water at Red Reef Trail
There are countless amazing hiking trails all throughout the St. George area one of the best ones for families is the Red Reef Trail also known as Red Cliffs Trail. The trailhead can be found at the Red Cliffs Recreation Area Campground in Leeds just 25 minutes northeast of Saint George. The trail is an easy hike with hardly any elevation gain and is mostly paved over in red rock. It is a well-loved hiking spot when the weather warms up and the water runoff creates pools and streams to play in along the trail. The entire trail is 6 miles round-trip, but most hike to the falls where there is a great swimming spot just 1 mile from the trailhead.
Climbing the Rocks at Pioneer Park
When you first arrive at Pioneer Park it may look like there's not much to do there, but this little-explored jam offers 52 acres of a rustic community park with several great places to explore. If your kids love to climb this is an amazing place that they could spend all day. The Saint George Narrows, or The Crack, is a short distance from the parking lot and a very narrow exciting place that many kids love to play, no hiking required. All along this area, you'll find several great spots that you can climb without any equipment and little nooks that make great caves and hideouts for hours of make-believe play. For even more fun you can travel a little bit further up the road to access Boy Scout Cave, an old pioneer homestead that was built into the rocks.
Historic Sites in Downtown Saint George
The city of St. George was settled in 1861 and is full of rich pioneer history. The downtown area of St. George is scattered with several historic buildings and museums that make for an interesting day trip out with your family.
Some of the most interesting historical spots in downtown Saint George include the Daughters of Utah Pioneers Museum, the Brigham Young Winter Home, the Saint George Tabernacle, St. George Children's Museum, St. George Art Museum, Thomas Judd's Store, and Town Square Park.
Thunder Junction Park
This is one of the most impressive city parks in the entire state of Utah. The park is a must-do for families with kids that are looking for a fun place to play in St. George. The park has several great play structures in a prehistoric theme that will have your kids never wanting to leave. Some of the highlights of the park include the waterfall, splash pad, and erupting volcano that doubles as a shaded picnic area.
The play structures of this park are an "everybody plays" model allowing children of all abilities a place to play and explore in the park which is so great. In addition to all of the amazing themed play structures and water, area is the train that takes you through winding tunnels and passes the dinosaurs for just one dollar per ticket.
Virgin River Skim Board Park
If you were looking for a place to cool down and get into the water in the desert this is the only place where you can skimboard in the desert. It is a great fun way to take part in an activity that is most often reserved for large coastal bodies of water.
There are so many great reasons to love Saint George and the countless activities for those of all ages is just one of them. For more information on St. George real estate and surrounding areas please contact me anytime.
There are so many reasons to love St. George. For more information on Saint George real estate please contact me anytime.
ther Great Adventures Around St. George