Buying the Right St. George Home
Posted by Erika Rogers on Tuesday, June 21, 2022 at 11:29 AM
By Erika Rogers / June 21, 2022
Comment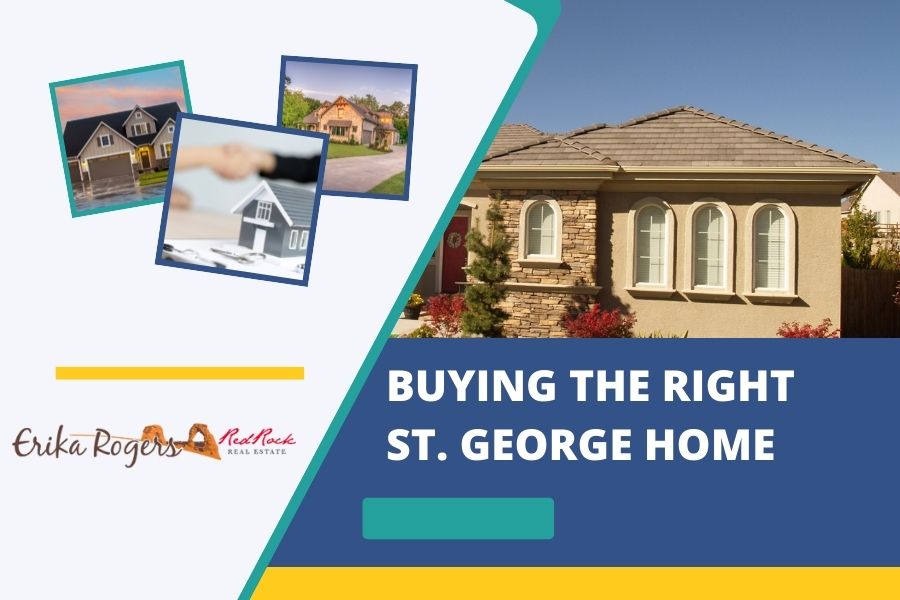 Buying the Right St. George Home – It is important that you ensure you are choosing a property that will provide more value in the future. When you're deciding what type of home is right for you, it's helpful to think long-term. Try to ensure that the home you buy is suited to your current needs as well as your future plans. It's also worth thinking about how the home you want to buy can be resold later or serve as a source of income in the future. So, what should you consider while buying the right St. George homes for sale?
Buying the Right St. George Home
Location
Location is one of the most important considerations. The location continues to be an important factor when it comes to the profitability of your investment.
Valuation
Property valuation informs various other components. This includes financing property purchase, the seller listing price, the investment analysis, and the insurance premium, alongside the taxation. When considering the valuation aspect, you can use three approaches. The initial approach refers to the sales comparison approach, and it is based on comparing the sale of properties with other similar characteristics.
This approach is applicable when valuing both the new and the old properties. the second approach is the cost approach. Lastly, we have the income approach, which is based on the projected cash inflows, and it is suitable when investing in new rental properties.
Why?
As you begin your journey of searching for new homes for sale in southern Utah, at the back of your mind you will need to have a clear definition of why you are buying the property.
Lacking a clear definition of why you are investing in the St. George homes
Credit Score
When buying a new home, chances are that you intend to borrow a mortgage. The credit score has a huge impact when it comes to qualifying for a mortgage. If you have a high credit score, you will get a better mortgage rate, which is an opportunity to save on the cost of a mortgage. Thus, it is important you start working on your credit score the moment the thought of buying a new home comes to your mind.
Working With a Real Estate Agent
Do not jump into investing in a new home for sale in Southern Utah without hiring a reputable real estate agent. The real estate agent will help you through the process of negotiating for a better deal from the sellers.
Most buyers know what they want and what they don't want in a home. If you haven't yet, make a list of your must-haves. Keep that list on hand to cross-reference any properties you happen to tour. If you think you've found the home for you, double-check it against your list.
Even if you've found a house that checks off your most must-haves, there will likely be some element of compromise. When thinking about a home's potential, you should consider how much work you'll have to put into it in order to make yourself happy. Then, ask yourself if that amount of work is realistic for you. Spotting the one isn't always easy, but building a game plan around the things you want and need in your new home can help.
Erika Rogers – your real estate leader in St. George, UT and surrounding communities. She specializes in new construction, golf course communities, gated communities, 55+ adult communities, St. George luxury real estate, and Washington Utah homes in all Southern Utah communities.
More Home Buyer Tips