Can a Seller Get Out of a Deal Once an Offer is Accepted?
Posted by Erika Rogers on Tuesday, June 18, 2019 at 9:06 PM
By Erika Rogers / June 18, 2019
Comment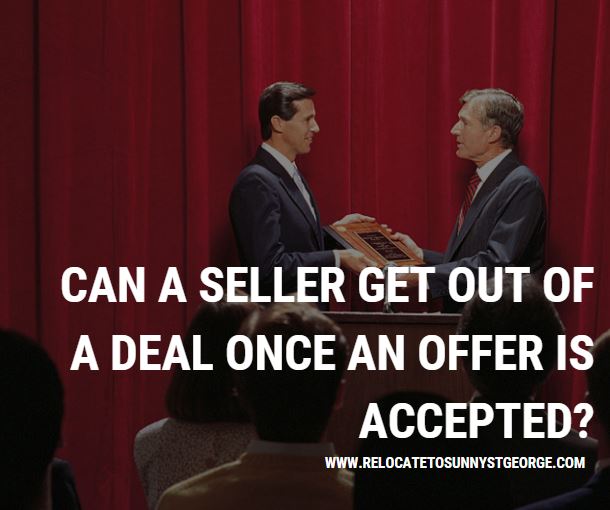 It doesn't happen often but it's an important topic and if you are researching this, you might be considering not selling even after you've already accepted an offer from a buyer. So what can you do?
While real estate agents tread a fine line between legal advice and real estate advice, as an agent and broker I am legally bound to not offer any legal advice. This means that the only advice I can give is advice related to real estate without violating any equal housing laws as well. As a real estate broker I cannot evaluate legal issues and advise my clients legally nor can I file lawsuits for them. I cannot make arguments in court on their behalf and cannot draft any legal documents including any addendum's or additional contracts for the purchase and sale contract.
So, back to getting out of the deal once an offer has been accepted. Although there's really not a lot of legal advice, it is important that the seller understand that if there is not just cause for getting out of the contract the seller may be liable to a lawsuit. This is also a fine line even bringing up that word. This is, however, a binding and legal contract. Getting out of a contract usually has consequences. While many buyers can leave a real estate transaction for a variety of reasons, most sellers can get in trouble for simply feeling to complete the transaction. The laws are very different for sellers who accept an offer by a buyer under the exact terms of the offer and everyone signs off on it. The buyer and seller are in a contract subject to any contingencies required of the buyer, not typical of the seller.
More: How much legal information can a Realtor® provide?
If there is no liquidated damage provision in the home seller refuses to release the buyer from the contract, there may be other options. The buyer can either agree to voluntarily cancel the contract or consume the seller for specific performance. This is where the seller does not do everything in the contract and the buyer may have legal right to sue the seller, which will usually obligate the seller to sell the property to the buyer at the agreed-upon price in the original contract.
This isn't to say that these things don't happen. Well, I've never dealt with lawsuits myself, real estate industries can pose a number of challenging situations. Remember, you have about 10 different parties involved in a real estate transaction from both agents to both buyer and seller, appraisers, inspectors, escrow, title agencies, lenders, and the list goes on. Really good agents have clutter and creative ways of assisting their buyers or sellers in a variety of ways. Communication is also the key. Simple communication between the agents, buyer and seller, lender, and all parties involved really can help alleviate a lot of issues that may come up due to misunderstanding.
So, while it may not be super easy for a seller to get out of the deal once an offer is accepted, it's not necessarily impossible. There are some stipulations and again, communication is key.