Check Out These St. George Activities and Destinations, Perfect for Retirees
Posted by Erika Rogers on Sunday, September 24, 2023 at 2:57:31 PM
By Erika Rogers / September 24, 2023
Comment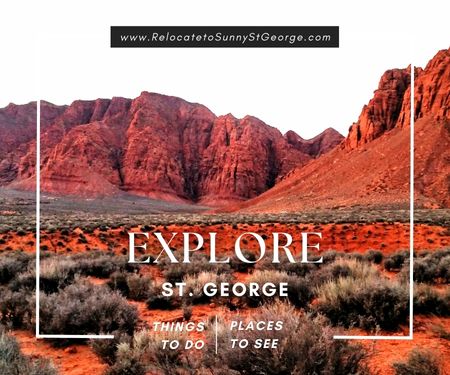 It's no secret that St. George is one of the best places to retire, with a beautiful climate, plenty to do amidst breathtaking natural landscapes, and an abundance of active 55+ communities to choose from. If you are an active adult looking for something fun to do in St. George, or you are wondering if you can enjoy your preferred retirement lifestyle in this location, check out this list of activities and destinations in town.
Hiking and Biking
St. George is surrounded by stunning red rock formations and numerous trails for hiking and mountain biking. Explore trails like Red Cliffs Recreation Area, Snow Canyon State Park, and Zion National Park. There are options for all skill levels, from easy strolls to challenging hikes.
As you enter your retirement or empty nester years, you can make more time for day trips and weekend getaways, and living in St. George puts you in an ideal location to explore some of the most beautiful natural landscapes in the nation.
Golf
St. George boasts several world-class golf courses, thanks to its warm climate. Enjoy a leisurely round of golf at courses like Sunbrook Golf Club, Southgate Golf Club, or The Ledges Golf Club, all set against scenic backdrops.
There are multiple golf communities in St. George, where you can buy a home that gives you access to a beautiful course just steps outside your door.
Snow Canyon State Park
This park is a haven for outdoor enthusiasts. You can hike, rock climb, bike, or simply take in the breathtaking views of red sandstone cliffs and lava fields. Don't miss the opportunity to watch a performance at the Tuacahn Center for the Arts, an outdoor amphitheater located within the park.
Water Activities
While St. George itself isn't on the coast, nearby lakes like Sand Hollow State Park and Quail Creek State Park offer opportunities for swimming, boating, paddleboarding, and fishing.
The southern Utah climate makes it easy to enjoy water activities often, with mild winters and hot summers that will have you craving some refreshing time on the water.
Sports, Wellness, and Outdoor Recreation
St. George has a thriving wellness community. Join a yoga class, meditate in the serene desert surroundings, or pamper yourself at a local spa.
If you like to stay active with a little friendly competition, you will love living in St. George. Pickleball is a favorite among retirees in St. George. Many local parks and communities have pickleball courts, making it easy to join games and tournaments.
If you have an adventurous spirit, explore the desert landscapes around St. George on an ATV or UTV. There are plenty of off-roading trails to satisfy your craving for adventure, surrounded by scenery that will leave you awestruck.
Dining
St. George has many excellent restaurants to choose from. Enjoy dining at local restaurants with outdoor seating areas nearly any time of year, with pleasant weather in St. George that makes it perfect for savoring meals outdoors.
Want to learn more about living in St. George or buying a home in a St. George active adult community? Contact us any time.