Dazzling Delight: Exploring the Holiday Lights at Red Hills Desert Garden in St. George, Utah
Posted by Erika Rogers on Thursday, November 9, 2023 at 9:43:15 AM
By Erika Rogers / November 9, 2023
Comment
'Tis the season to be merry and bright, and what better way to embrace the festive spirit than by immersing yourself in the magical world of holiday lights? In the heart of St. George, Utah, the Red Hills Desert Garden transforms into a twinkling wonderland during the holiday season, enchanting visitors of all ages with its spectacular display.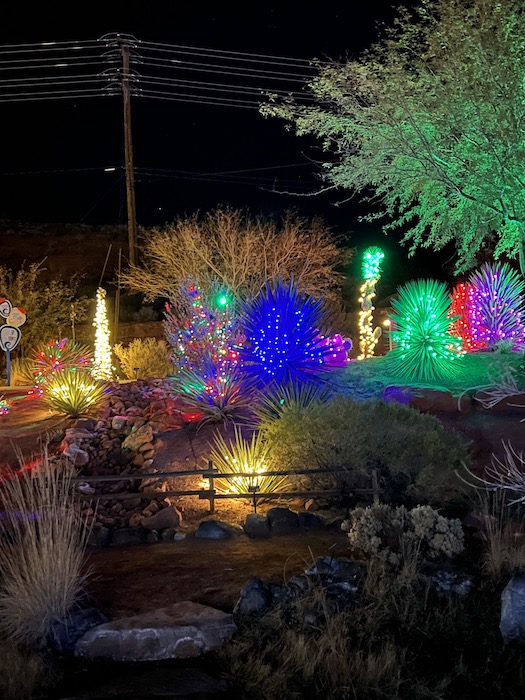 HOLIDAY LANDSCAPING
As the sun sets behind the striking red rocks, the garden comes to life with a symphony of colors, casting a warm glow over the unique desert landscape. The juxtaposition of the vibrant holiday lights against the rugged terrain creates a mesmerizing scene that captures the essence of the season in a distinctly Southwestern way.
As you enter the garden, you'll be greeted by the gentle melodies of holiday tunes, setting the perfect ambiance for a festive stroll. The pathways are adorned with thousands of twinkling lights, weaving through cacti, succulents, and other desert flora. The careful arrangement of lights transforms the garden into a surreal oasis, where the desert meets the North Pole.
LIGHT EXTRAVAGANZA
One of the highlights of the Red Hills Desert Garden holiday lights extravaganza is the illuminated cactus garden. Giant saguaros and prickly pears are wrapped in strings of lights, turning these iconic desert plants into living ornaments. It's a breathtaking sight, and the juxtaposition of the spiky cacti adorned with soft, glowing lights creates a visual feast for the senses.
HOLIDAY CHEER FOR ALL
The magic of the holiday lights at Red Hills Desert Garden extends beyond the visual spectacle. It's a community event that brings people together to celebrate the joy of the season. Whether you're a local resident or a visitor from afar, the garden invites everyone to experience the warmth and hospitality of St. George during this special time of year.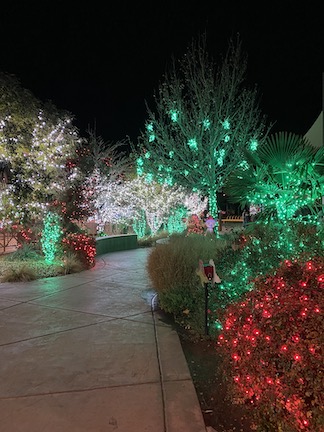 While you wander through the garden, surrounded by the soft glow of lights and the crisp desert air, you can't help but feel a sense of wonder and gratitude. The holiday lights at Red Hills Desert Garden serve as a reminder that, even in the heart of the arid desert, the spirit of the season can thrive and illuminate the darkest nights. The display runs daily, starting November 22, 2023- January 1, 2024 until 10 PM each night and admission is free.
So, if you find yourself in St. George during the holiday season, don't miss the opportunity to immerse yourself in the enchanting world of holiday lights at Red Hills Desert Garden. It's a magical experience that will leave you with lasting memories and a heart full of holiday cheer.
What: Holiday Lights at Red Hills Desert Garden
Where: 375 Red Hills Pkwy, St. George, UT 84770
When: November 22, 2023- January 1, 2024 - nightly until 10 PM
If you're looking for other holiday fun in Southern Utah, please check out my other blogs on The Dickens Festival, The Jubilee of Trees, and The North Pole Express.