Dining Room Décor: Stylish Dining Rooms
Posted by Erika Rogers on Thursday, November 19, 2015 at 1:29 PM
By Erika Rogers / November 19, 2015
Comment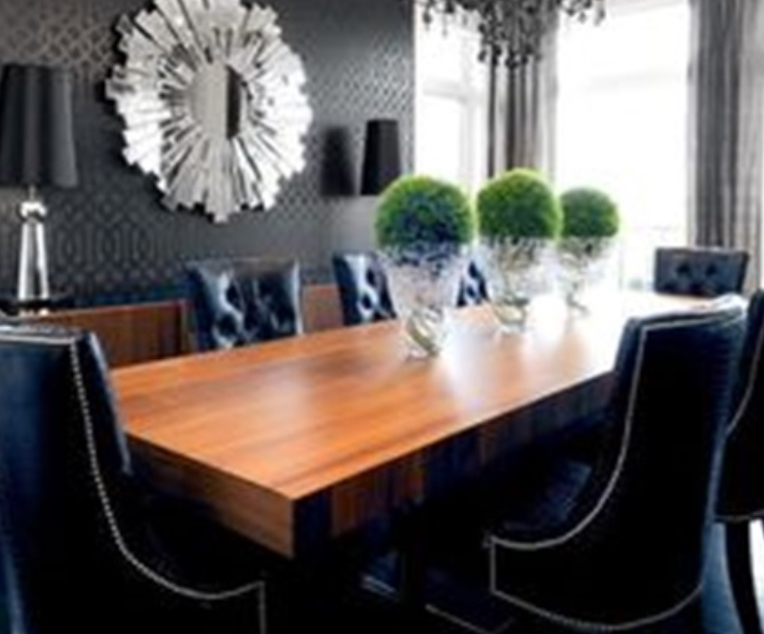 Are you looking for dining room décor ideas? I have some stylish dining room ideas that are sure to create the most stylish dining rooms. Get creative and transform your boring dining room into a very stylish one that you can be proud to show off to your family and friends. And, now that it's time for the holiday's, it is the perfect time for these dining room décor ideas.
Layer Neutrals – When you layer neutral colors, fabrics and designs you will easily create a stylish dining room. Use antique painting and white linens for maximum results.
Use Fun Colors – Warm tones of embellished glasses and gold flatware are perfect for adding sparkle and delicacy to any casual table.
Bold Color – You can still create a stylish space with bold colors. Try painting your dining room walls a solid color and add bright coral upholstered dining chairs. You can also add painted lantern sconces and a brass chandelier for even more bold flare.
Low Profile – If you have a small space with no dining room, try this low profile dining room décor idea. Add a small round table and chairs in the corner of your living room or entry way. Add a small chandelier to make the look complete.
Calming Palettes – Use wall coverings in subtle cloths to create a tranquil space that is warm and inviting.
Mix It Up – Mix color and style to achieve a personalized look. Use various styles of furniture; however, complete the look with unified colors. Whether your colors are bold or soft, keep the theme for a more complete look.
Upholstery Mixes – You can create textural depth by mixing up upholstery fabrics. If you have it in your budget, you can reupholster your dining room chairs with patterns on the cushions and solids on the backs with coordinating colors.
Go Nontraditional – Think outside of the box by going nontraditional with your dining room décor. Jazz up your traditional dining room with unexpected color combinations such as green painted walls and orange upholstered dining chairs.
Use Naturals – Use your natural surroundings such as exposed beams on the ceiling and adding rustic furniture to complete the all-natural look.
Plush Drapes – Create a super stylish dining room with plush drapes on your windows. Luxurious drapes hung from ceiling to floor will give any dining room a stylish look.