Easy Home Improvements to Sell Your House
Posted by Erika Rogers on Tuesday, October 14, 2014 at 12:49 PM
By Erika Rogers / October 14, 2014
Comment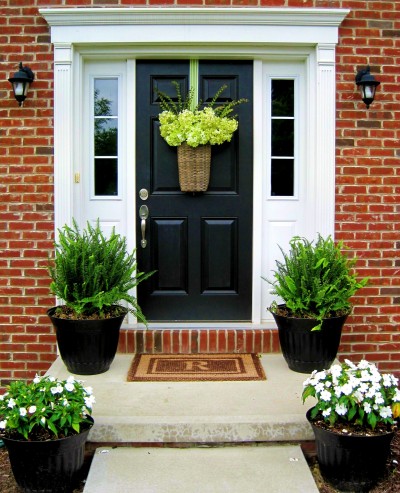 Contrary to popular belief, not all home upgrades and home improvements require years of savings. It's easy to think that home improvements and upgrades cost thousands when you see magazines with bathroom remodels for $15,000 or new windows for $8,000. Kitchen upgrades can run even more. However, I have some home improvement tips that will enhance your home's value without emptying your wallet. It will help you sell your home faster too. These small projects can add instant value while making your life more pleasant and manageable.
Easy home improvement tips:
√ Lighting – Lighting can make any room appear larger if you use good modern lighting. So, change your old fashioned fixtures with up-to-date lighting fixtures and energy efficient bright bulbs for the best results. You can find popular styles at your local home improvement store or on online. Look for lighting trends such as bronze and copper fixtures. If you choose chandeliers or pendants for your dining room or kitchen, it will give the room an instant elegant feel.
You can expect to spend anywhere from $50 to $1,000 for new lighting fixtures. You can also spray your current fixtures for as little as $20.
√ Entrance – One of the most popular and effective ways to update the look of your home from the street view is to make your front entrance more attractive. You can replace the front door with a new solid door with contemporary fittings and locks. Or, you can just paint your current door and add up-to-date handles. You can also add potted plants and a new exterior light that makes the entranceway pop.
You can expect to spend $30 to $1,000 on sprucing up your entranceway.
√ Bathroom – You can modernize your bathroom for less than $2,000. That money can go a long way in a small bathroom. You can replace your out-of-date toilet and sink, add new lighting fixtures, paint the room, upgrade the mirror and add tile.
You can expect to spend $100 to $2,000 upgrading your bathroom.
√ Cleaning – A clean house enhances the look of any home and it can make your life more pleasant. You can do a heavy duty cleaning yourself or have a professional come in and do it for you. A carpet cleaner may also be in need. Just make sure they can clean your home from ceiling to floors including baseboards and windows.
You can expect to spend $100 to $500 depending on how much of the work you do yourself.
You can do these home improvements one at a time or all at once. Just set aside a couple of weekends if you plan on doing them all.
These home improvement tips are brought to you by: Erika Rogers – your real estate leader in St. George, UT and surrounding communities specializing in new construction, golf course communities, gated communities, 55+ adult communities, St. George luxury real estate, and foreclosures in all Southern Utah communities.