Have You Tried a Cookie from St George UT Crumbl?
Posted by Erika Rogers on Tuesday, August 17, 2021 at 3:11 PM
By Erika Rogers / August 17, 2021
Comment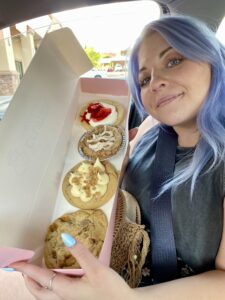 Have you tried a cookie from Crumbl in St George yet? Crumbl cookies are freshly baked and served warm or chilled, depending on the cookie. Visitors and customers to a Crumbl store get to see the cookies being mixed, balled, baked and decorated in real-time. It's so fun to open the door and walk into a store as the delicious scent of cookies in the oven greats you.
A display of all the cookies available that week is on the counter so you can see for yourself how yummy they look. You may purchase individual cookies, or they also offer a 4 pack, 6 pack or 12 pack.
There are two convenient Crumbl Cookies locations in the St George UT area. They also offer home/office delivery so there's no excuse not to treat yourself to one, or four, of these amazing cookies.
Delivery on weekdays is typically available until 9:30 pm, on weekends they deliver until 11:30 pm. There's nothing better than a warm cookie delivery on a Friday night!
To order cookies you can download their app on your phone, visit their website CrumblCookies or call the store directly. Here's the St George UT locations so you can check them out.
Crumbl Cookies – 2654 Red Cliffs Dr. St George UT phone # 435-359-2119
Crumbl Cookies on Bluff – 1333 Auto Mall Dr. Ste 307 St George UT phone # 435-272-4238
Every week they rotate their cookie offerings! There's usually 4 or 5 specialty flavors and they ALWAYS have their famous, delectable milk chocolate chip cookie. Here's a few of their previous flavors to give you an idea of their creativity.
Kentucky Butter Cake
Mango Frozen Yogurt
Chocolate Potato Chip
Dulce de Leche
Strawberries and Cream
Peach Cobbler
Lemon Poppyseed
Buckeye Brownie
Crumbl first opened in 2017 in Logan UT, the brainchild of two cousins with a vision for the worlds best cookie. They now have expanded to over 200 stores in 32 states!
There are so many reasons to love St. George and Crumbl is just one of them! For more information on Saint George real estate please contact me anytime.