How to Attract Busy Contractors to Your Renovation
Posted by Erika Rogers on Monday, January 17, 2022 at 12:06 PM
By Erika Rogers / January 17, 2022
Comment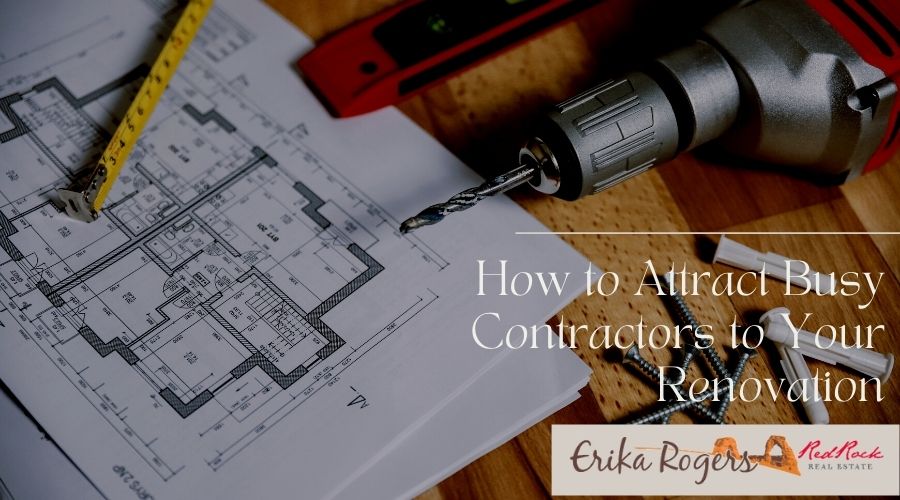 Several home contractors say that pandemic prompted home remodels have kept their schedules filled to the brim despite labor and material shortages that have extended project timelines. This could mean the next contractor you contact to potentially do some work in your home may be a little bit more selective about a project they will take on. It could also make your quote a little bit higher than you may have expected.
Here are some strategies you could use to stand out from the crowd of homeowners interested in home renovation and catch contractor attention.
Get a referral
A contractor is more likely to call you back if an existing customer of theirs refers you or a friend. Look for friends, family, and neighbors who have recently had work done on their homes. You could also put out a question about knowing a reputable contractor on your social media.
Many times contractors will be more interested in keeping current customers happy and helping out a friend compared to starting up a job for a complete stranger.
Be patient and very kind
Right now several contractors are dealing with backlogs that impact the timeline of completing any job. This can quickly make everybody involved in the process impatient and grumpy.
It could take a while to even get a callback from a contractor but your first contact goal when they do, if they do, is to be as kind as possible when communicating what you are looking to have done instead of starting off the conversation with a comment about how long it took to get a callback.
This first step in communicating kindness and patience could go a long way with a contractor choosing to do work with you over others.
Have a detailed idea and know what you want
Knowing the most detailed information about the exact jobs you need to be performed for your home renovation will go a long way in getting your renovation going. For example, if you want your kitchen done you could sit down and make a list of specific items you want to change in your kitchen and then look into exactly how you want to accomplish that.
If you are hoping to refinish the cabinet doors, communicate exactly what or how you want to change them including details right down to the type of finish or paint you are hoping to use. This helps a contractor to give as precise a quote as possible in both price and timeline.
It could also help to get your job started as the contractor will know exactly what they need to do and what it would require of them to accomplish it instead of taking longer to figure out final details on another project with an indecisive homeowner.
Communicate about the protection of finances
Make sure that you communicate that you are being wise and savvy with your budget to your contractor. Tell them you would like to build in at least a 12% buffer into the original bid to ensure that things could stay on track should there be a price increase on materials.
This communicates to a contractor that you are understanding the current financial climate when it comes to the materials and cost of renovating a home right now. It also helps communicate to them that should they have to have the conversation that prices increased that it will be less of a headache and hassle with you as a customer. Because you both have already agreed-upon building in a buffer for this scenario.
Real Estate in St. George, UT and surrounding communities. She specializes in new construction, golf course communities, gated communities, 55+ adult communities, St. George luxury real estate, and foreclosures in all Southern Utah communities.
Related Posts: