How to Choose a Home to Retire In
Posted by Erika Rogers on Wednesday, June 20, 2018 at 9:36 AM
By Erika Rogers / June 20, 2018
Comment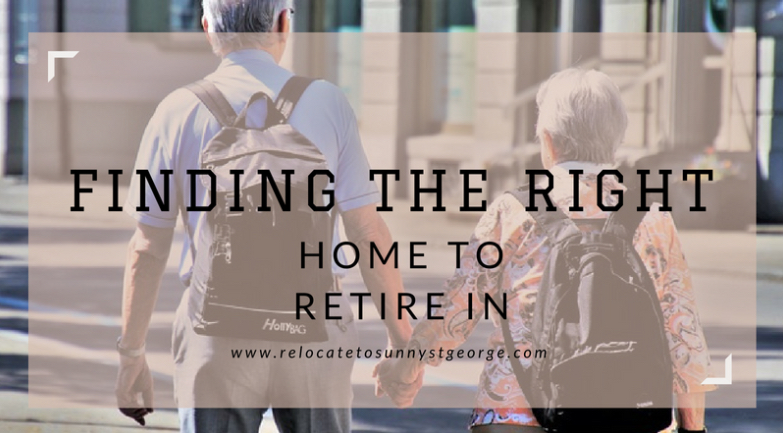 I thought about the title of this post and I was thinking about titling it "how to choose the right retirement home". But that implies that you're looking for an assisted or independent living facility, and that's not really what I mean. If you're looking for a home in which you want to retire, that's different than a "retirement home". I hope a lot of baby boomers and folks looking for either their dream home or maybe their downsizing so a retirement home is technically the term even though it's not an assisted living or independent living facility.
If you're at that stage in life where you're looking to downsize or maybe just find a home that's perfect for you and maybe your spouse to enjoy your retirement years, that's where I come into play. I am well-versed in a lot of 55 and over active adult communities throughout St. George, Washington, and hurricane. I want to make sure you find the right home so that you can truly enjoy your retirement and to do so, I've compiled a list of things to consider when choosing the right home.
#1. Don't just consider the house today but 10 years from now.
This is probably a home you will be in for the next 5 to 15 years so consider your lifestyle 10 years from now if you can't. You probably don't want a lot of stairs so a single-story or one-story home might be a better choice. You may not want a lot of stairs leading up to the house as well so take that into consideration. What about wider hallways, larger bathrooms, and fewer bedrooms so that you don't have to worry about cleaning spaces that you don't use.
Search all 55+ Communities Now
#2. Do you want to downsize or keep the same square footage?
I'm noticing a lot of baby boomers are not downsizing as much as the generation before them. This downsizing has actually become a misconception to a lot of real estate agents. Only about 28% of baby boomers are looking for smaller homes. The average home is about 2200 ft.² and a lot of people looking for a good retirement home still want that space but maybe not as many bedrooms since kids are out of the house and they're looking for more space rather than actual rooms.
#3. Do you want an active lifestyle?
Think about the neighborhood in which you want to buy. Do you want a lot of kids riding their bikes to the neighborhood, younger families, or do you prefer to be in an older community with active adults? There are a lot of 55+ active adult communities where the homeowner needs to be at least 55 years of age or older to live there. Of course, you can have your kids and grandkids visit at any time and even stay with you for a while, but the majority of homeowners will be your peers with activities, social events, and lots of amenities and facilities like swimming pools, tennis courts, or even golf courses.
Start Your Personal Home Profile Today
#4. How much maintenance do you want to?
Some newer communities have homeowners associations that can maintain the exterior and even provide lawn maintenance or snow removal. Consider how much maintenance you really want and maybe an association would be perfect for you so that someone else can tend to the yard and exterior of the property. What about storage? Will you need additional storage?
#5. What about pets?
Some associations may have rules about bringing your four-legged friends along so wherever you choose if you have a four-legged friend, make sure the Association or the facility allows pets. And even if you don't have one now, you may consider getting a pet later on, so that might be something to consider now regardless.
I'd love to help you find the right home to retire in so give me a call today and let's discuss your needs and your budget. I can email you a list of all of the homes and real estate properties that might fit your search criteria and offer free showings and consultations on buying, or lease anywhere around the St. George Utah area.