How to Determine Your House Hunting Budget in St. George
Posted by Erika Rogers on Friday, June 9, 2023 at 3:41:44 PM
By Erika Rogers / June 9, 2023
Comment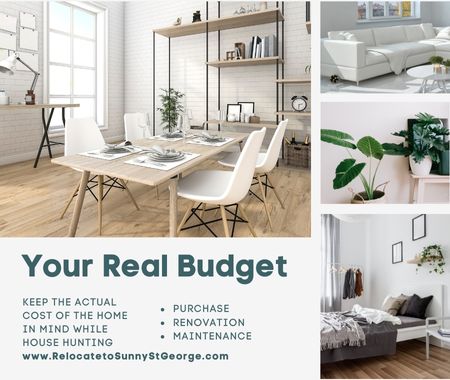 Determining your actual budget while looking for houses for sale in St. George involves more than just getting mortgage pre-approval. While the amount you are pre-approved to borrow is significant, there are other factors to keep in mind to make sure you are ready to make a confident and efficient decision you won't regret later.
One of the keys to finding your new home is working with a St. George real estate agent you can trust. Contact us any time to learn more about how we can help you find homes for sale in St. George that meet all your needs.
To nail down your house hunting budget, keep these things in mind.
PITI
Your PITI is what you think of as your housing payment. It is the sum of the principal (P), interest (I), taxes (T), and insurance (I) that make up your monthly mortgage payment. You can get a pretty good idea of what your PITI would be after getting pre-approved, knowing what your interest rate will be and making a quick calculation based on your down payment and purchase price.
The taxes and insurance on a given home will differ slightly depending on where you buy. Keep in mind that the cost to insure your home will increase if you choose an older home, something in a flood zone, or another similar risk factor.
Maintenance Level
The maintenance level of the home you are considering will affect its affordability. Even if you plan to do most of the maintenance yourself, a house with a large lot and many trees to trim will cost you more than a low maintenance townhome.
As you tour various St. George homes, keep the amount of maintenance it will require in mind, and be realistic with yourself about how much of it you can do yourself and how much will require a professional.
Furnishing
While it is a one time cost and not an ongoing expense, furnishing your new home can be a major financial burden if you did not consider it before hand. Consider whether the home you are looking at will require a major investment to furnish and whether that fits with your budget in a reasonable time frame.
Renovation
Of course there are renovation costs to keep in mind if you are buying an existing home. It can be fun and exciting to consider the ways you might transform a home you are considering into your dream home, but make sure to factor these things in to your overall budget if they are something you will do right away.
If the expense of a renovation does not make financial sense, you may find that looking at St. George new construction builders is the better choice, allowing you to move into a home that is not in need of any repairs or updates.
Age and Condition
The age and condition of the home will likely affect your budget, even if you do not plan to do any renovations right away. If you are considering a home that is older than 10 years old, pay careful attention to the inspection report and look for anything that will need to be addressed immediately or in the near future. Even if it is nothing but normal wear and tear and no reason to walk away from the deal, older homes often come with surprises that can turn into costly repairs. The more you can anticipate these expenses, the more confident you can be about the purchase of your new home.
Ready to begin the search for your house in St. George? Contact us any time.