How to Prioritize Watering Your Landscape During a Drought
Posted by Erika Rogers on Monday, May 31, 2021 at 6:56 PM
By Erika Rogers / May 31, 2021
Comment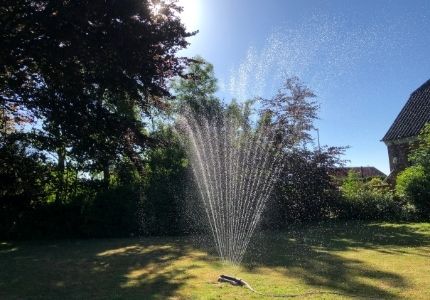 St. George is known for its beautiful sunny weather and little amount of rainy days. It is a gorgeous place that many people love to come and visit. This year is a little drier than others.
The Governor of Utah, Spencer Cox, recently issued an executive order that declared Utah in a state of emergency due to drought. Right now all of Utah is in the moderate drought category and about 90% of the state is in the extreme category.
With less water readily available it can be more difficult to keep your landscape thriving and beautiful.
Conservation experts are suggesting that any landscape watering be held off until the temperatures are consistently in the 70s to help save water for other things. When the weather has hit a consistent number of days in the 70 degree range and above, there are some things you can do to prioritize what parts of your landscape to water to help keep it healthy.
Here are the areas of your landscape you should water first:
First Priority: Trees
Trees provide shade and oxygen as well as help to cool the inside of your home. These are the most valuable plants in a landscape and should be watered first before other areas of your landscape.
Number Two: Shrubs
The bushes/shrubs in a landscape filter dust and pollution from the air as well as help to dampen noise and should be a second priority in watering.
Number Three: Perennial Plants
With time, the roots of perennial plants help to improve the soil conditions in your flower beds, these should be given water after trees and shrubs are taken care of.
Number Four: Annuals
Annuals provide pollen for insects and bees and food for hummingbirds. They also add cheery bright colors and the visual interest that we love in our gardens. These should take the fourth spot on the priority scale in watering.
Number Five: The Grass
This is instinctually where most people want to water first in their yard, as it takes up the most surface space. But grass requires a LOT of water to stay green and vibrant, it is a high maintenance piece of the landscape and tough to keep happy in a drought. Do not worry if the grass turns brown this year and looks less than at its peak, it will enter dormancy and recover as conditions improve, unlike other landscape plants higher up on the list.
A beautiful landscape adds curb appeal to a home and a pleasing space to enjoy the outdoors all to yourself. With the right care your landscape will make it through the drought this year and be flourishing again in the future.
For more information on homes for sale in St. George and surrounding areas please contact me any time.
Erika Rogers – your real estate leader in St. George, UT, and surrounding communities. She specializes in new construction, golf course communities, gated communities, 55+ adult communities, St. George luxury real estate, and Washington Utah homes in all Southern Utah communities.
More Home Seller Tips