Inventory Checklist for Homeowners Insurance
Posted by Erika Rogers on Thursday, March 31, 2016 at 9:46 AM
By Erika Rogers / March 31, 2016
Comment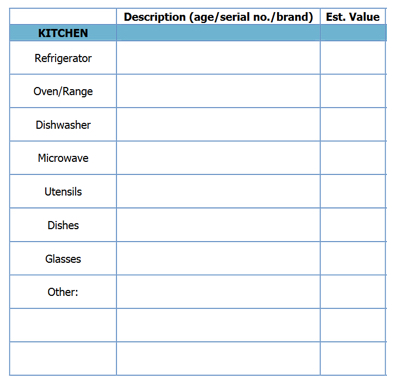 Inventory checklist for your home may sound a bit overwhelming. However, when it comes to homeowner's insurance, an inventory checklist is important. It is key to recovering the value of all your possessions in the event you experience a fire, flood or other disaster. The more you can document of your belongings, the less likely you are to run into problems or questions when you need to file an insurance claim. Therefore, I have some tips to help you create a home inventory checklist to get you started.
Home Inventory Checklist
Photograph Everything of Value – Photos of all your belongings goes a long way with regards to demonstrating possession and value. Digital photos are ideal, since they're easier to print and store. Be sure to get full-room shots, as well as close-ups of items. You'll also want to take photos of your possessions located in cabinets, closets and drawers. You can also back up your printed photos by downloading your photos onto a removable flash drive that you can store in a safe place like a bank safe-deposit box in case your home is destroyed. This is a very important part to every inventory checklist. It's a visual description of everything you have.
A Written Inventory – While photos are an important part of the inventory checklist, a written inventory is also important. Prepare a written home inventory so you'll have it handy if you ever need to file a claim. Your insurance company will ask for a copy. Include as many details as possible, such as purchase dates, brand names, serial numbers, and estimated costs. Be sure to attach receipts to your home inventory list if you have them. It's a good idea to keep a copy in a bank safe-deposit box with your photos, in case your home is damaged or destroyed.
You can download a free paper home inventory worksheet to help you get started on a with your inventory.
Things to Keep-in-Mind – When backing up digital files, a USB drive can be useful. Simply copy the files onto the drive and keep it safe, preferably away from your home. You can also stash the drive in an emergency bag, to be stored somewhere accessible in case you need to evacuate immediately. A bank safe-deposit box is the safest place to store paper records, drives, and other valuables. If you would rather keep some of your important documents close at home, consider a fireproof safe, which is usually waterproof too.
When your home inventory files are electronic, it's very easy to use an online backup system to keep digital copies outside of your home. That's a big plus if your computer is stolen or destroyed. Some backup services like Dropbox offer limited storage space for free. You just need to make sure it fits your digital storage needs.
This home inventory checklist information is brought to you by: Erika Rogers – your real estate leader in St. George, UT and surrounding communities. She specializes in new construction, golf course communities, gated communities, 55+ adult communities, St. George luxury real estate, and foreclosuresin all Southern Utah communities.