Is Offering Asking Price for a Home Enough?
Posted by Erika Rogers on Monday, October 25, 2021 at 2:44 PM
By Erika Rogers / October 25, 2021
Comment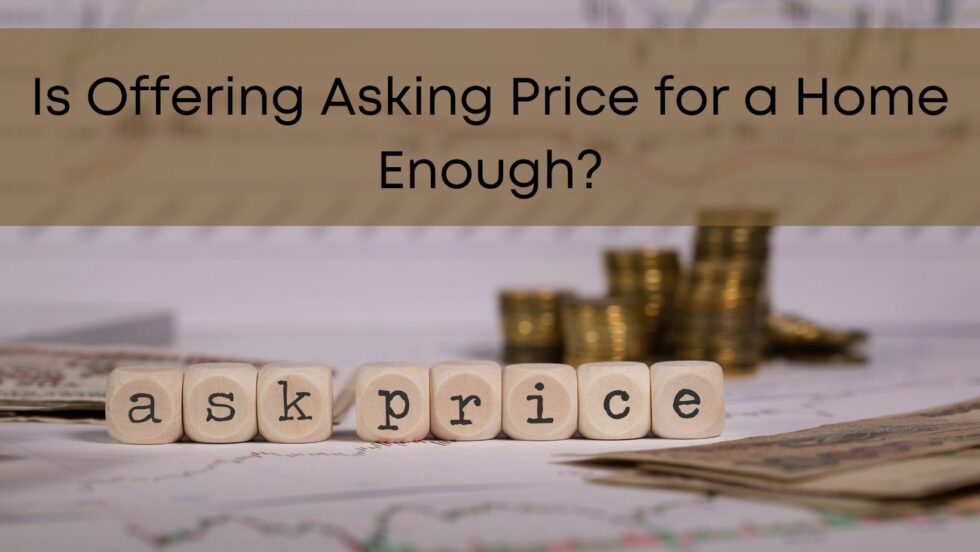 In today's housing market there are still more buyers looking for homes than sellers selling them, and buyers should expect to have little room negotiating a lower sales price. In a more even housing market, or in a buyer's market, a buyer has more room to offer a lower amount than the list price of a home. In many cases, a buyer could come in below list price and a seller may counteroffer until both parties renegotiate and agree on a final purchase price, often somewhere in the middle of the buyer's offer and the actual list price.
Currently, the housing market is much different and many homes are selling for more money than they are being listed for. According to research from the National Association of Realtors, the average home is receiving about four offers and selling in just 17 days. A home selling quickly and receiving multiple offers means that buying a home has become much more competitive than just a few years ago. Of course, most of this is due to a low supply of homes coupled with the high interest of several buyers wanting to take advantage of super-low mortgage rates.
This continued competition has led many homes to enter into bidding wars and the prices of homes go up well beyond list price. Sales records have shown that almost 6 in 10 homes listed are selling for the above-asking price.
Should you make an offer at list price?
If you found a home you really love and want to put an offer in on it, you need to make sure that you were well aware of the current market in that local area. This will help you to know how it will impact the offer you make and your success of having your offer picked out or accepted by the home seller. Offering below a home's list price may not even get your offer looked at depending on the particular factors of the home you want to purchase and offering list price may not be enough either. In most cases, the highest bidder often is the one that wins out in the competition.
It's always best to work with an experienced real estate agent that knows every current detail about the market of the property that you were interested in, and whether it is highly likely for the home to enter into a bidding war. Not every home will enter into a bidding war, but in many cases, it is likely in this current hot seller's market.
There are some tactics that a buyer can use to make sure they present a strong offer as sometimes the strongest offer will not always be the highest offer. This can mean items like offering a higher earnest money amount, or showing that you will be much easier to work with. In some cases, a home seller will turn down the highest offer in order to sell their home to someone with a higher likability or a more substantial financial picture showing that it is highly unlikely for the purchase offer to fall through on the buyer's part.
For more information on purchasing a home in St. George right now, including all St George area real estate, please contact me anytime.
More Great Tips for Relocation: