Kitchen Gadgets that do Double Duty for Tiny Homes
Posted by Erika Rogers on Monday, January 3, 2022 at 12:11 PM
By Erika Rogers / January 3, 2022
Comment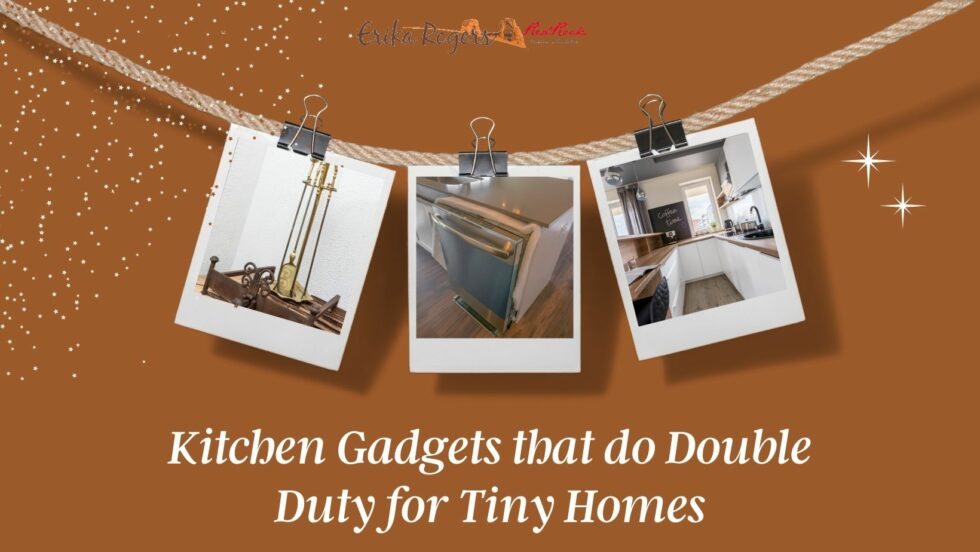 When putting together the kitchen in a tiny home, it can take some creative and challenging organizing techniques to make sure one of the most important spaces in your home functions just the way you want it. Most of the appliances in the home are found in the kitchen and this is why some find it challenging to fit all of the necessary tools into such a tiny space.
One solution many tiny homeowners use to avoid a ton of bulky items in the kitchen is to find multi-functional tools that will work better in a tiny home kitchen.
But what are the best multipurpose kitchen appliances to use in a tiny home? Here are some tips for finding the best multipurpose tools for your kitchen.
What to look for in a multipurpose tool for a tiny home kitchen
Finding multipurpose tools for a tiny house kitchen is not the same as shopping for a traditional home appliance. You want to think about the amount of space everything will take up even if it does multiple jobs. You want to think about which items really will be used and which ones will just sit around.
When shopping for multipurpose tools keep these characteristics in mind:
How multi-functional is it? – there are several great multi-functional kitchen tools available on the market, but it is best to buy appliances that have the most functions while still remaining reliable. You can find small kitchen appliances, for example, that can function as a grill and air fryer, and a steamer all in one convenient place.
Compact and sturdy- of course in a tiny home you want your appliances to save as much space as possible, but in some cases, this can mean compromising on reliability and usefulness of the machine itself. When searching for smaller items to use in your kitchen you want to make sure that it functions well and dependably, not that it only fits into your space.
Collapsible- there are many great tools for kitchens that come in foldable and collapsible forms today. This can help you to fit more tools into a drawer or cabinet as compared to regular traditional kitchen tools. Replacing items like a normal everyday colander with a collapsible version can go a long way in a tiny home kitchen.
Energy-efficient- when it comes to a tiny home kitchen the perks of an energy-efficient appliance go much further than spending less money to power the product. Tiny homes run on much smaller electrical systems, and as such, it is the best idea to find the most energy-efficient kitchen appliances possible so you don't overload your system.
Noise- this is something that all homeowners look for, but it should be specially sought out amongst tiny homeowners. The noise of some kitchen appliances can carry throughout a traditional-sized home. Just think about the noise that it would put out in a tiny home. Finding appliances with as little noise output as possible is a very good idea.
Some multi-functional appliances and tools to consider for a tiny home
Countertop dishwasher
This might not be a huge priority for all tiny homeowners but having a dishwasher can be a very helpful tool for very busy tiny homeowners. Some countertop dishwasher models have more than just dishwashing capability. They can also function as baby bottle steamers, dish dryers, and more.
All in one toolsets
Clever toolsets that keep all the smaller kitchen gadgets together in one compact container. The most fun all-in-one toolsets allows you to take apart each tool from the set for its specific use and then put it back together into a shape such as a bottle and store it decoratively right on your countertop.
Expandable kitchen counter and cabinet shelf
Many times, we find ourselves frustrated with the lack of space in our cabinets or lack of shelving. There is usually empty space sitting above items on the shelf that could be utilized. You can find helper shelves to help you make the most of empty air spaces left in the cabinet above the items on one shelf and below the next shelf.
Real Estate in St. George, UT and surrounding communities. She specializes in new construction, golf course communities, gated communities, 55+ adult communities, St. George luxury real estate, and foreclosures in all Southern Utah communities.
Related Posts: