Leveraging Home Equity: Offset the Cost of Buying a Home in 2023
Posted by Erika Rogers on Friday, August 11, 2023 at 12:07:01 PM
By Erika Rogers / August 11, 2023
Comment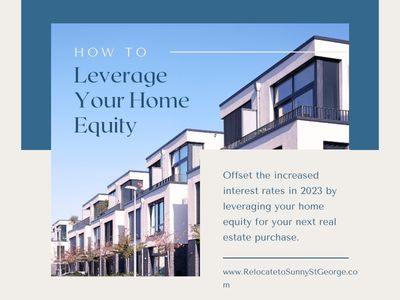 The real estate landscape is ever-evolving, and in 2023, higher interest rates are a reality all buyers have to deal with. While rising interest rates can impact the cost of buying a home, homeowners have an advantage in their arsenal: home equity. Utilizing your existing home's equity strategically can help offset the increased costs associated with higher interest rates when purchasing a new home.
If you would like to know more about homes for sale in St. George and how to leverage your current position as a homeowner to reach your homebuying goals, contact us any time.
To understand how your home equity can make buying a new home possible, keep reading.
Assess Your Equity
Before diving into the process, assess the amount of equity you've built in your current home. Equity is the difference between your home's current market value and the outstanding balance on your mortgage. This asset can serve as a valuable resource to help fund your next home purchase.
If you are not sure what your current home is worth in order to estimate your home equity, we can help. Contact us any time for a free market analysis.
Consider a Bridge Loan
A bridge loan, also known as a swing loan, is a short-term loan that can provide you with the funds needed to purchase a new home before selling your current one. This can be especially useful in a competitive market where you want to secure your new home quickly. The bridge loan is repaid once you sell your existing home, using your equity.
Explore HELs and HELOCs
Home equity loans (HELs) and home equity lines of credit (HELOCs) allow you to tap into your home's equity. A home equity loan provides a lump sum that you can use to offset the costs of a new home purchase. A HELOC acts as a revolving line of credit, giving you access to funds as needed.
Either of these might be the right fit if you are a current homeowner with significant equity and would like to purchase a second property. You can use this tool to leverage your home equity for a down payment or other home buying costs without selling your current property. Many investors lean on this strategy for purchasing a vacation home or income property.
Use Your Equity for Down Payment and Closing Costs
You can use the equity from your existing home as a down payment on your new home. A larger down payment can help lower the overall loan amount, which can offset the impact of higher interest rates. Additionally, using equity for closing costs can further reduce your out-of-pocket expenses.
Balance Your Goals
Lastly, it's crucial to strike a balance between leveraging your home's equity and ensuring your financial stability. While it's advantageous to offset higher interest rates, it's equally important to maintain a safety net for unexpected expenses and to avoid overextending yourself financially.
We want to help you reach your goals in a way that is comfortable for your risk tolerance and makes sense for your budget.
Ready to learn more about buying or selling a home in St. George? Contact us any time.