Moving Checklist – How Not to Forget Anything
Posted by Erika Rogers on Friday, March 4, 2022 at 10:24 AM
By Erika Rogers / March 4, 2022
Comment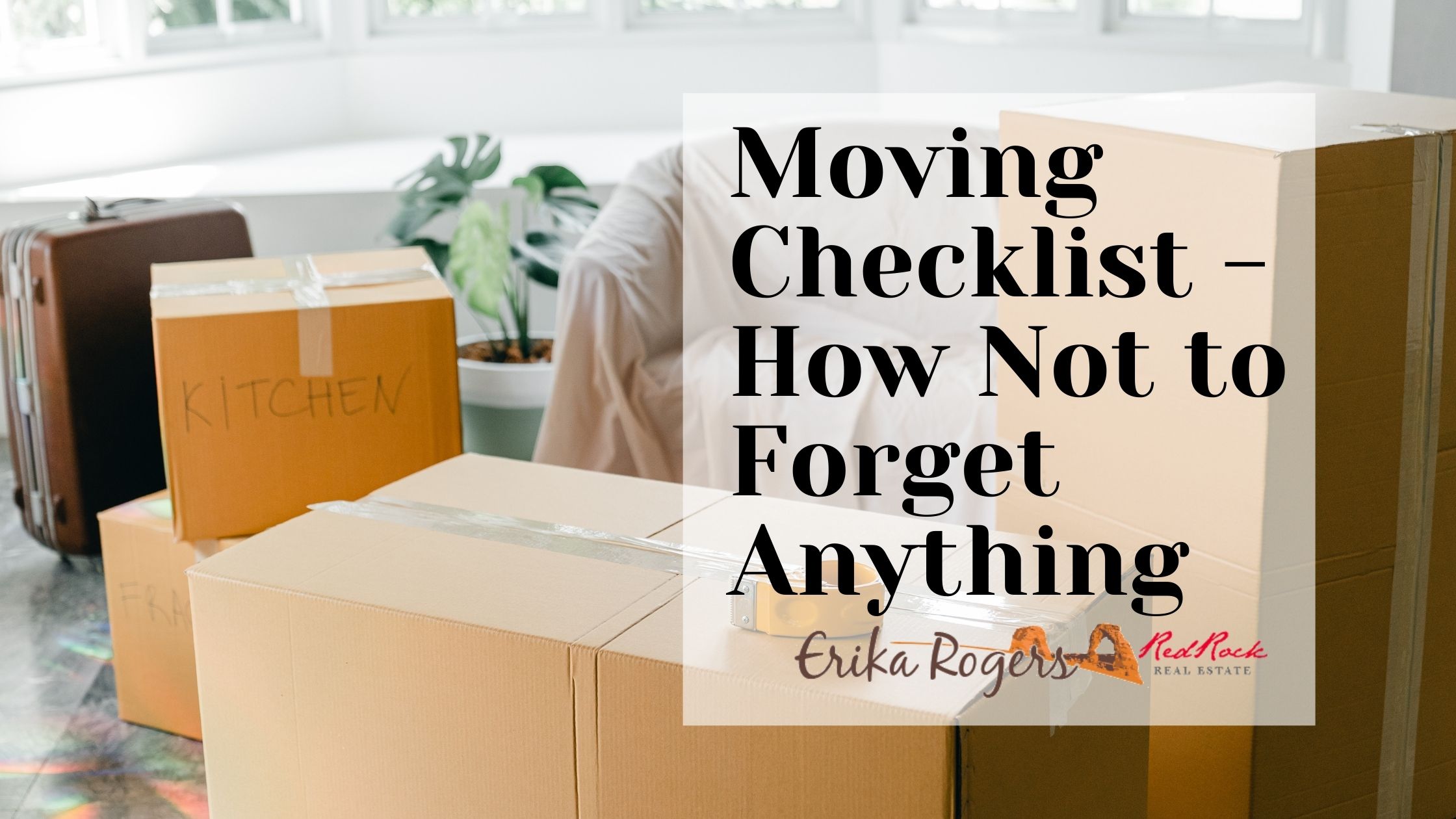 Moving is hard and exhausting, and it's often possible that you might overlook critical details that might create panic at the last minute. It's easy to lose track of essential responsibilities during the shifting chaos. So, before you say goodbye to your last house, loosen up your move by making sure you've done all you need to accomplish on moving day.
It might be stressful to move into a new house. You've already changed a lot and are leaving a place where many memories have been formed. Going to your new house may make you feel like you're making progress in your life. Moving out of your old home sometimes is a significant milestone, and there are no hard and fast rules on how to do it when the time comes. From the when to the why, here's a checklist to help you move out of your old house:
Moving Checklist – How Not to Forget Anything
Make a lock change for your new home
There's no way of knowing how many copies of your house keys are circulating. Hire a locksmith and have a fresh set of keys manufactured to give yourself relief.
Moving your stuff
Start by picking a box of necessities and sending it to your new home. Put in cleaning products, toilet paper, paper towels, and other essentials for moving day (lots of snacks, a set of clean sheets so you can rest after a long day of unpacking, etc.).
Give your new home a thorough cleaning.
While your new place may have been cleaned before it was put on the market, you'll still want to give it a thorough cleaning to bring it up to your standards. Before you moved in, you never knew what happened!
Hire someone to get rid of the filth for you if you want to save time on the unpacking process and don't want to deal with it yourself. At the very least, hire a professional carpet and grout cleaning service. There's no way of knowing what's hidden beneath those carpeted flooring.
Replace the toilet seats if necessary.
This may sound trivial, but the toilets are often the dirtiest place when you move in your new home. Rather than wasting time washing them, take them out, clean below them, and replace them with a new seat. Knowing that your family has consecrated them, sitting on the brand new chairs will give you absolute peace of mind saving you from other health or repairing/ leakage issues.
Double-check the location.
Once you get the keys, go over to your new house and inspect all the rooms. Just before closing day, double-check that everything agreed upon throughout the transaction is still in place. You'll want to double-check that everything you expected is still in the house.
Leave Your Old Home's Keys Behind
Ensure you've gotten all of the keys from everyone in the house before leaving them on the kitchen counter for the new owners. Don't take the garage door opener with you, which is something that many folks might overlook. Leaving that behind will surely be an extra thing you'll do for the new owners, and they will surely be very thankful for that.
Controlling Pests in the New Home
Make sure that you and your family are the only ones who will be relocating to your new home. Hiring an exterminator to come by and inspect for unwelcome visitors, seal holes for any vermin, and spray to dissuade future uninvited house invaders is a good idea.
Replace the Air Filters
It's preferable to start with new filters in your new home because you can't be sure when they were last changed, and you don't want more dust clouding up your freshly cleaned house and carpets. Make a note of the date you installed them so you can keep track of them and reinstall when needed.
Always Put Your Safety First!
Take some time to make sure your new house is secure while you're doing that deep cleaning. Vacuum the dryer vent while you're in the laundry room. Replace the batteries in your smoke detectors while you're cleaning the dust off the walls and ceiling fans. Find a suitable location to keep a fire extinguisher when cleaning out your kitchen cupboards.
DO NOT Rush
When moving into a new house, most individuals will probably repaint. You might want to hold off on this for a while. Picking up samples and painting a few places is totally acceptable. However, before committing to a new paint scheme, it's wise to live in a property for a while. Living in a new house allows you to better understand how you utilize each area and how lighting affects your mood throughout the day. Those factors will influence your color selections. You don't want to have to repaint because you didn't like the color you picked at a particular time of day.
Examine Every Area in Your Previous Home
Make a last walkthrough of your previous house to ensure that everything is packed. Make sure you haven't forgotten anything by going through your closets, drawers, cupboards, garage, and attic. If you're in a hurry to pack and move, it's easy to overlook the bathroom drawer or kitchen storage area. Take your time to fill every nook and cranny.
Understanding your feelings
It will always be challenging to move. If you're in the middle of planning a relocation, you should be aware that after closing it will not necessarily be all rainbows and unicorns, and that is the biggest myth.
You must make decisions that will improve your happiness in your new home. Your happiness and well-being improve as you increase your attachment to the new place. It will take some time. But sooner or later, you will adjust to your new environment, and it all starts with the decisions you make about how you spend your time daily.
Conclusion
Moving to a new place is a big step in your life. You need to double-check everything so you won't miss anything and save yourself from future issues.