Outdoor Lighting for an Upgrade in Curb Appeal!
Posted by Erika Rogers on Tuesday, May 9, 2017 at 12:47 PM
By Erika Rogers / May 9, 2017
Comment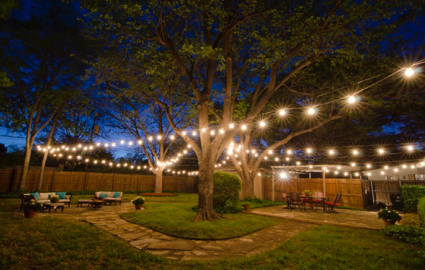 Let's say you are having an evening dinner party at your home. Yay! Those are always fun. Okay, they are maybe a little stressful, but more fun than anything. For this special occasion, you have put all of this time, work, and money into fixing up your yard and landscaping. After all, you want your home to look warm, welcoming, and presentable when guest pull up to your home. However, the dinner party is in the evening and if your home just has plain old porch lights, your guests will be walking up to bugs. That is not the type of warm welcome you had in mind. A great way to enhance your outdoors without attracting all the bugs to your front porch is by copying the moon.
Here are some easy ways to utilize the outdoor lighting in your favor and give your own yard enough light to glow and be picturesque
If you have trees in your yard, set some light to them. You can do this either by placing light at the base in the ground, or by placing light in the trees themselves. Showcase those beauties!
Place lights in the front of your home going upward. This is called up-lighting. I'm sure you have seen it before. It is a beautiful way to enhance your home.
When picking out lighting, choose a warm, white light shade of color. Keep this look consistent and it will glow right along with the natural light from the moon.
Don't be afraid to use variety in your yard. Post lights, area lights, and different fixtures. However, just be careful not to go overboard!