Questions to Help You Plan Out Your Front Yard Design
Posted by Erika Rogers on Saturday, April 16, 2022 at 10:05 AM
By Erika Rogers / April 16, 2022
Comment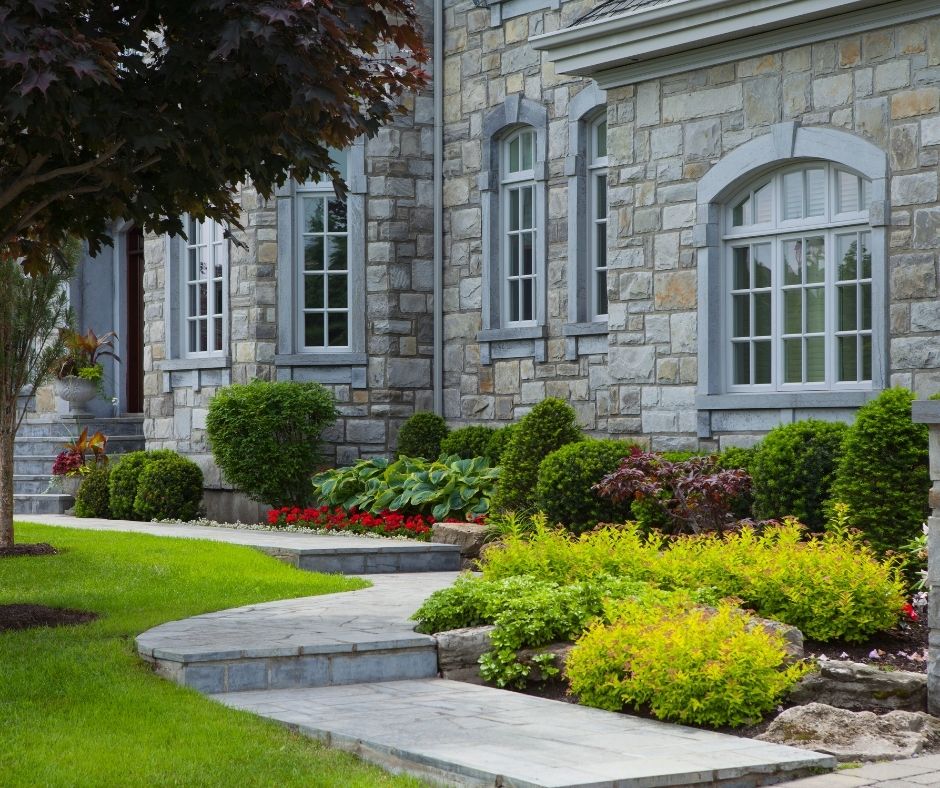 When it comes to bringing style and curb appeal to your front yard it may seem like you are limited because of the space. There are many things you can do to make your front yard look beautiful, creative, art-like, and even attract some wildlife. Before getting started it is helpful to ask yourself some questions to help plan out the project ahead. With these questions, you will have the most attractive front yard on the street.
These questions will help you to have the most practical yet beautiful front yard.
How do you hope to use the space?
You want to make sure you are considering function and practicality before you get swept away with fun and gorgeous landscaping elements. What do you need in your front yard for it to function in everyday life? Do you need parking? Do you need to store bikes and outdoor toys? Do you need to use a portion of this yard for outdoor enjoyment, and would you prefer some screening for privacy?
Asking yourself some questions about the practical functions that your front yard needs to perform will help you then to be able to consider how everything will fit together.
How can you keep plants proportionate to the space?
Even the tiniest of front yards have some room where they can allow space for gorgeous plants. Your front yard is most often smaller than my backyard but there is still plenty of opportunities to plan out some ornamental plants.
You want to make sure that trees and shrubs are proportionate to the size of your yard. Trees in particular can cause an overbearing problem in a smaller yard. It is not a great idea to plant a tree right up next to the structure of your home as this will cause problems when it begins to grow. You do not want trees and shrubs growing right up against your home.
Most often a front yard is more formal and ordered to present something to passersby. When it comes to plants you really want to consider how often you personally would enjoy being in the garden. This is a great time to head to a local nursery after taking a picture of your front yard and discuss your favorite plants with an expert that works there.
What about the path from the street to the front door or the driveway to the front door?
When it comes to accessing the front door, you want to make sure that it is easy and welcoming by creating a path. This could either be from the street to the front door or from your driveway to the front door or both.
One of the biggest decisions you will have is what materials to use to create your path if there is not already one. Try to keep into account the style elevation of the front of your home and make sure that your pathway helps to accessorize that style. For example, you do not want to create a walk of river stones for a mid-century modern home. These two styles tell two very different stories.
What colors should you pick?
There is no hard and concrete rule for the number of different materials or plants you use in your landscaping as well as the color of flowers and other items. But there is a way to overwhelm the eye and have your yard feel chaotic and busy from a curb appeal point of view.
A good rule of thumb to keep things feeling relaxing and serene is to coordinate with the colors of your home. A good rule of thumb for hardscaping materials is to keep them to three or less.
A good method for designing, or redesigning your front yard landscape into a peaceful oasis full of curb appeal is to keep things simple. Less is more. Look up some pictures of your favorite yards that are in front of homes similar to yours and start from there.
For more information on purchasing a home in St. George and surrounding areas, please contact me at any time.
Erika Rogers – your real estate leader in St. George, UT, and surrounding communities. She specializes in new construction, golf course communities, gated communities, 55+ adult communities, St. George luxury real estate, and Washington Utah homes in all Southern Utah communities.
More Home Seller Tips