Retiring In St. George
Posted by Erika Rogers on Wednesday, November 30, 2022 at 1:45 PM
By Erika Rogers / November 30, 2022
Comment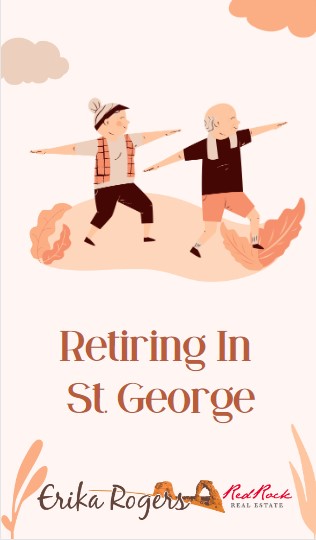 Retiring In St. George – Are you retired or preparing to retire? There is a lot that goes into this massive life change. Oftentimes retirement comes with selling your home and downsizing your life. Even if this is not your scenario, you still might be considering a move and why not take a look at St.George? St. George is a popular retirement area for many reasons.
What to Know about Retiring In St. George
Why St. George
St. George is the 7th largest city in Utah. It is a popular retirement community and the most popular in the state. The beauty of the red rocks, mild climate, and plethora of recreational opportunities are among the many reasons people chose to retire in St. George. Home prices in St. Geroge have an average sale price in the 500k range. Many developers have targeted St. George for building because of the influx of retirees.
Healthcare
Approaching retirement usually means you are 55+ and healthcare can be very important to you. St. George is the regional health care center which is just another reason why it is the desired place to be. Dixie Medical Center is the main hospital for this part of southern Utah.
More: 55+ Communities in the St George UT Area
Climate
A moderate climate is desired by retirees. This is just another reason to focus your attention on St. George because it has a moderate climate. Usually, a moderate climate means less maintenance in weathering your home and property, which is exactly what retirees want. St. George is dry most of the year and has warm summers.
Recreation
As mentioned before, there are a lot of recreational activities at your fingertips in St. George. Many 55+ communities have amenities for all of your favorite activities. These activities can include a fitness center, aquatics, tennis, pickleball, golf, and access to hiking trails.
Many hiking trails allow you to see all the scenery from above the valley. Dixie Rock is a favorite of locals. Zion National Park is a popular location to visit and is about an hour away from St. George.
If the performing arts are your favorite pastime, then you will be happy to know that St. George is only 2 hours from Las Vegas and all of its shows.
Crime
The crime rate in St. George is low compared to the US average. This means that it is safer than most cities.
Transportation
St. George provides great public transportation services if you require transportation. It is also an easy city to get around. Navigating and getting familiar with this city will be easier than others.
Cost Of Living
St. George is known to be very affordable and the cost of living is lower than the US average. Home prices may be up, but the rest of your living expenses will be lower.
In Conclusion
Although St. George isn't a city just for retirees, it is extremely common to meet others moving there for retirement. Whether you are downsizing, looking for recreation, or looking for a moderate climate, St. George meets all of your retirement needs. If you are looking at retiring in St. George and need assistance in buying or selling a home, contact me. I would love to help you with my expertise as you make this transition and call St. George your home.
---
For more information on Retiring In St. George and to purchase or sell a home in St. Geroge, contact me! To learn more about buying or selling a home, contact our office of real estate experts! This information is brought to you by: Erika Rogers – real estate leader in St. George, UT and surrounding communities. She specializes in new construction, golf course communities, gated communities, 55+ adult communities, St. George luxury real estate, and foreclosures in all Southern Utah communities.