Should You Pull Your House off the Market if it's Not Selling?
Posted by Erika Rogers on Friday, January 5, 2018 at 11:03 AM
By Erika Rogers / January 5, 2018
Comment
It's winter. Homes may not be selling like they are at the peak of the season. Has your home sat on the market far longer than you expected? Should you lower the price or pull it off the market?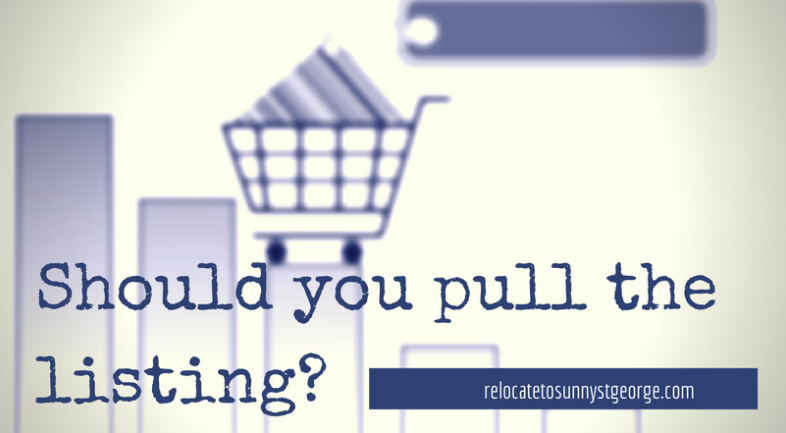 Here are pros and cons to pulling it off the market and relisting it.
#1. You're not fooling anyone. Many MLS's won't even consider the listing new if it's relisted within 3 months. Larger companies like Zillow and Trulia also show that the house has been listed recently. Buyers and their agents can see the home has been taken off the market and relisted and will usually question why.
#2. Your home won't sell off the market. It only takes one buyer and that buyer won't see your home if it's not listed. It may just be the season. Real estate is seasonal and it helps to know what type of market you're in. If it's a seller's market and your home is not selling, ask why. Ask your real estate agent or other buyer's agents that have seen your home and get feedback so you know what to change. If it's a buyer's market, there may just be too much competition.
#3. Has it been on the market long enough? No one wants to be on the market any longer than they have to but it's reasonable to be on the market for 3-6 months. It may take that long to find a buyer. If you've priced it correctly, it should sell.
#4. Lower your price. Instead of pulling it off the market, do another comparables research. If the home has been on the market longer than 6 months, prices in your area may have changed. You may need to lower it to be competitive. If your home is the most expensive one on the block, you may need to think about lowering the price lower than the closest comparable if you can. If you can't lower the price, you may need to pull it off the market and wait until prices come back up.
#5. Relist after a rehab. If you think your home could use some TLC, pull it off the market, make the renovations and check the pricing again. You may be able to gain some value and get new, fresh buyers in the door with a new look.
If you've been on the market way too long, give me a call. Let's do some research and find out where we can make some changes to get the house sold. I have years of proven strategies that help my clients get the price they want and their home sold FAST!