Should You Sell a Home and Just Rent Until Finding a New Home They Love?
Posted by Erika Rogers on Monday, April 12, 2021 at 7:21 PM
By Erika Rogers / April 12, 2021
Comment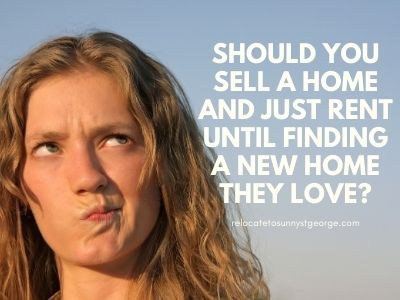 Should You Sell a Home and Just Rent Until Finding a New Home They Love? The current real estate market in 2021 is a strong seller's market. This is due to the fact that mortgage rates are still very low as compared to the preceding previous decades. This has created people to be more interested in owning a home because doing so is more affordable than it previously was. It is also due to the fact that there are fewer homeowners putting their homes on the market than before.
This combination of more people interested in purchasing homes and fewer people selling their homes has created a market where sellers are able to more easily sell their homes because of an increase in demand to purchase a home.
Due to the fact that there are so few homes for sale on the market sellers are also becoming concerned that if they put their home on the market and it sells, they will then become a buyer unable to find a home they would like to live in. This has led some homeowners to ask a good question: should they sell their home and rent one until they can find one they like, or just wait until the housing market has more homes for sale?
The answer to this question will depend upon a home owner's specific home and goals for their next home.
Some homeowners may be intrigued by the thought of selling their home right now while there is a high probability of selling for list price or above list price in a short amount of time and plan to use the profit to enable them to downsize to a less expensive home and then live a less expensive lifestyle. This plan would allow them to work less and do more of the things they love, like travel. While it sounds like the perfect time to downsize, a home they want to live in may not be available for some time and they consider renting until they do find a home they want to downsize to. Renting for a time could be a good idea while waiting for homes in a less expensive range to become available, but only if the average rent in the area in which you live is less expensive than your current home payment.
In many markets, rental prices cost more than mortgage payments on comparable homes. In addition, the amount you pay in rent is never guaranteed to not increase. In some real estate markets, smaller homes are not as desirable as large ones due to people not wanting to feel stuck inside a small house because of pandemic measures so selling to purchase a less expensive home that fewer people are on the hunt for may work to your benefit.
Some homeowners may be looking to sell their home for a large profit right now in hopes of being able to make a sizeable down payment on a larger dream home. Again, whether this will be beneficial for you will depend upon the housing market where you plan to live and the amount of home you would be looking for. If your budget will be within the highest competitive price range you will need to wait and rent, but as you do home prices and mortgage rates will increase as you build equity on a home for your landlord.
The best way to answer this question is to contact a trusted local real estate agent about the questions you have concerning selling your home and your hopes for purchasing the next one.
For more information on selling your home in St. George or surrounding areas please contact me at any time.