Spring Cleaning Tips for Selling Your Home
Posted by Erika Rogers on Thursday, February 25, 2016 at 10:06 AM
By Erika Rogers / February 25, 2016
Comment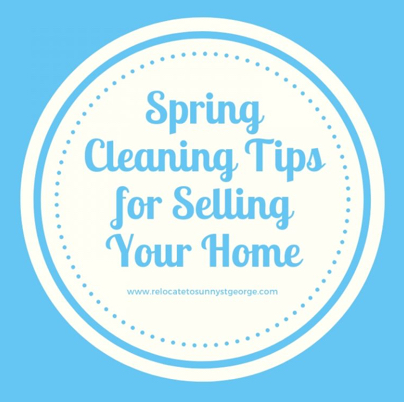 Now that the home selling season will soon be upon us, spring cleaning tips will come in handy to help you get your home in tip-top showing shape. I have found many helpful ideas for spring cleaning tips and compiled them into one checklist that can done over one weekend or a few days. These super simple spring cleaning tips will make your spring cleaning chore less of a headache so you can breeze through them with ease.
Spring Cleaning Tips & Check List
Walls – Dust all walls with a vacuum brush, clean using an all-purpose cleaner and then rinse. Check walls for holes and dings. Repair walls and then touch up with paint. Don't use a spray cleaner, since it will leave your walls with streaks. Soak a lint-free cloth in cleaner, then wipe. To rinse, start with a cloth soaked in plain water.
Baseboards: Dust with a lint-free cloth or use a vacuum brush, spray with an all-purpose cleaner and wipe clean. You'll want to clean all floors first before cleaning the baseboards, since cleaning floors will move the debris up into the baseboard area.
Windows – Use a lint-free cloth soaked in a solution of ¼ cup vinegar, ¼ to ½ teaspoon dish soap, and 2 cups water. More is not always better. Don't use more vinegar, too much can make windows look cloudy.
Window screens – To get your window screens nice and clean, you'll want to remove them. Place screens on a plastic tarp or other waterproof surface, then with your soft brush, cleaner and hose, gently clean each screen. Repair any torn window screens.
Driveway – Use a pressure washer to give your driveway (and garage floor) a good cleaning. It's surprising what a clean driveway makes to your home's curb appeal. Try using Coke or Pepsi to remove any oil or grease stains. It may take some elbow grease, but the acidity of the sodas helps remove oil stains and even rust.
Siding – Using warm soapy water and a soft brush attached to a long handle, clean your house in sections so the soapy water doesn't dry before you rinse. Presser washers can make your job a lot easier. You'll find that the newer ones are much lighter and easier to use.
Upholstery – Vacuum your furniture and spot clean or steam clean as needed. Toss your pillows, throws and curtains into the dryer on low to remove any dust, or take them outside on a nice day to air out and fluff.
Ceiling fans – Before you get on your ladder to clean your ceiling fans, check to see if all fans are set in the right direction to keep your home cool. Spray a cleaning solution inside old pillowcases and then slip the case over each blade and wipe clean.
Air conditioners – Change your air conditioner filter, or if it's a reusable filter soak in a vinegar and water solution for about 2-4 hours (depending upon how long ago you last cleaned). Let the filter dry completed before reinstalling. Consider drying the filter outside in the sunshine to kill bacteria and help remove any odors.