Surprising Things a Homeowners Association Can Ban
Posted by Erika Rogers on Tuesday, September 6, 2022 at 3:01 PM
By Erika Rogers / September 6, 2022
Comment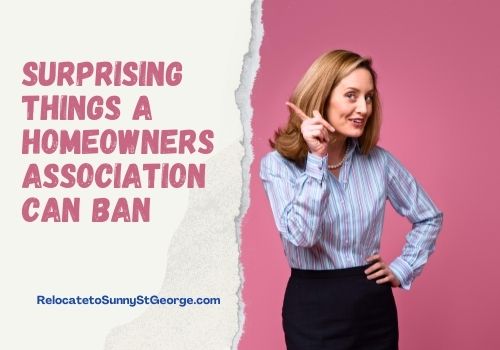 When searching for your next home the first thoughts that come to mind are more than likely hiring the best real estate agent, securing financing, and finding a home in a great neighborhood with everything that you need. You more than likely are not thinking about inquiring of the homeowners association's in the area. Several communities have HOA's to create and maintain a standard community value by providing shared amenities and holding to providing a high-quality atmosphere to enhance the quality of living in the neighborhood.
HOAs charge a fee, usually monthly, to cover the cost of the upkeep of community amenities or services like lawn care and trash removal. If you are planning to move to an area that has an HOA you will automatically become a member upon the purchase of a home in the community and must pay the required amount of HOA dues.
In some cases, it can feel like an HOA is strict or has overbearing rules that feel unreasonable. Here are some things you may be surprised to learn that an HOA has the power to ban in a neighborhood.
Air BnB Guests
If you live in a community with a homeowner's association you will want to check your bylaws before offering your home up as an Air BnB rental. Especially if you live in a condo where many of the spaces are shared with other homeowners. There are many HOAs that have either strict regulations about vacation rentals or ban them all together.
Plants
It may sound crazy, but your HOA can govern your landscaping decisions. This can even include potted plants.
Trash Day
Some HOAs will have rules about trash day. This can include when residents are allowed to put their trash can on the curb in preparation for pick up. While it seems crazy it can be reasonable when you think about the potential of some homeowners to leave garbage bins out for long periods of time on the street.
Overnight guests
Some housing communities will have rules regarding guests staying for long periods of time and can include staying just one night. For example in a condo association if a guest is taking up a parking spot for longer than they should you can be fined.
Pets
It is not uncommon for an HOA to have rules about pets. Some HOAs depending on the type of housing community may limit pets to those under 10 pounds or all pets except for a cats.
Keeping a bike on the balcony or front porch
If you ride your bike to work, or often, it seems reasonable to keep your bike in a safe space tucked away on your back balcony of a condo, or on your front porch right next to your door for easy access. Some homeowners associations find this to be a visible eyesore and do not allow it.
Holiday decorations
Some homeowners associations have opinions when it comes to what you put on and around your house to celebrate the holidays. Some will ban outdoor decorations all together and some may just regulate the color of lights and how many you can put on your home at Christmas.
What you park in your driveway
Yes, the driveway is meant to park in, but the homeowners association can make rules about what you leave in your driveway. In several cases, homeowners associations will make rules that do not allow for RVs or excessively large vehicles or boats to be parked in the driveway. In some cases, they are allowed, but only for a certain amount of time like 48 hours. Or only allowed to seasonally like parking an RV or boat only during the summer months.
Every HOA is going to come with its own set of distinct rules. It is always best to know if the home you're purchasing does have a homeowners association and what those rules are before you sign on the dotted line and make your purchase official.
For more information on real estate in Saint George and surrounding areas please contact me anytime.
More Resources: