Thanksgiving Centerpiece Ideas and Tips
Posted by Erika Rogers on Friday, November 6, 2015 at 1:37 PM
By Erika Rogers / November 6, 2015
Comment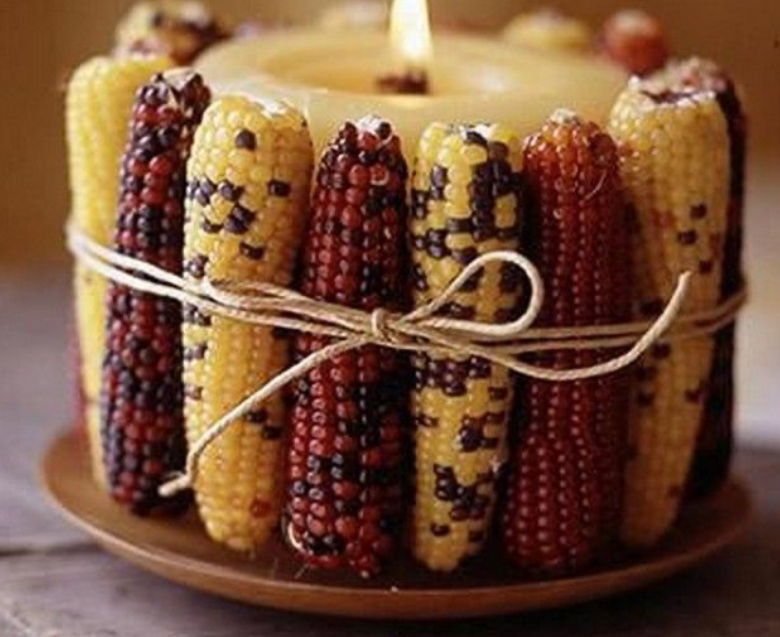 You can use many Thanksgiving centerpiece ideas to set the mood for your Thanksgiving holiday. You can also add an array of wreaths to enhance the mood even more. Therefore, I have found several Thanksgiving centerpiece ideas and tips to help you create the holiday mood you are looking to achieve. These ideas use what you already have so you can create beautiful seasonal displays. If you don't have them on hand, you can purchase these items for pennies on the dollar. Your family and friends will be jealous of your handy work.
Thanksgiving Centerpiece Ideas
Thankful Center Piece – Find a small tree branch and paint it white, place it in a vase that is filled with acorn or rocks. Each day have a family member write what they are thankful for on colored construction paper (browns and oranges) that has been cut into leaf shapes. Use yarn to hang to hang the new leaf each day.
Vase Center Pieces – Find your favorite tall vases, use Thanksgiving themed wrapping paper and wrap each vase, fill the vases with fall flowers, top with acorns and wheat straw.
Give Thanks Mantel – Create a thankful-theme mantel. Use pumpkins and a wheat arrangement to add height and depth, using white touches can guide the eye across the mantel. Paint six small pumpkins white and stencil T H A N K S on them. Only paint one letter on each pumpkin.
Twig Wreath – Gather lots of twigs that are flexible without breaking, use a heavy clothes hanger wire, cut the tip off with wire cutters, bend the hanger into a circle shape, wrap the hanger with florists wire, use more florists wire and begin wrapping your twigs around the clothes hanger. The florists wire will help hold it in place.
Leaf Wreath and Ribbon – Buy or gather fall leaves. If you use freshly fallen colorful leaves, spray paint them with a clear paint to help them keep their color. Use a round florists Styrofoam and begin taping, pinning or gluing the leaves all around the foam until you can no longer see the foam. Add a bow to the center on the top or bottom for added flair.
Vintage Oak Leaf Mantel Banner – Gather oak leaves from your yard and spray paint them off-white. If you don't have oak leaves you can use newspaper and cut out leaves. Lay a long line of the leaves out from leaf tip to leaf tip, glue or take together. Hang on your mantel with mantel hooks. Use pinecones to cover the hooks.