The Best Romantic Restaurants In St. George
Posted by Erika Rogers on Thursday, January 5, 2023 at 1:18 PM
By Erika Rogers / January 5, 2023
Comment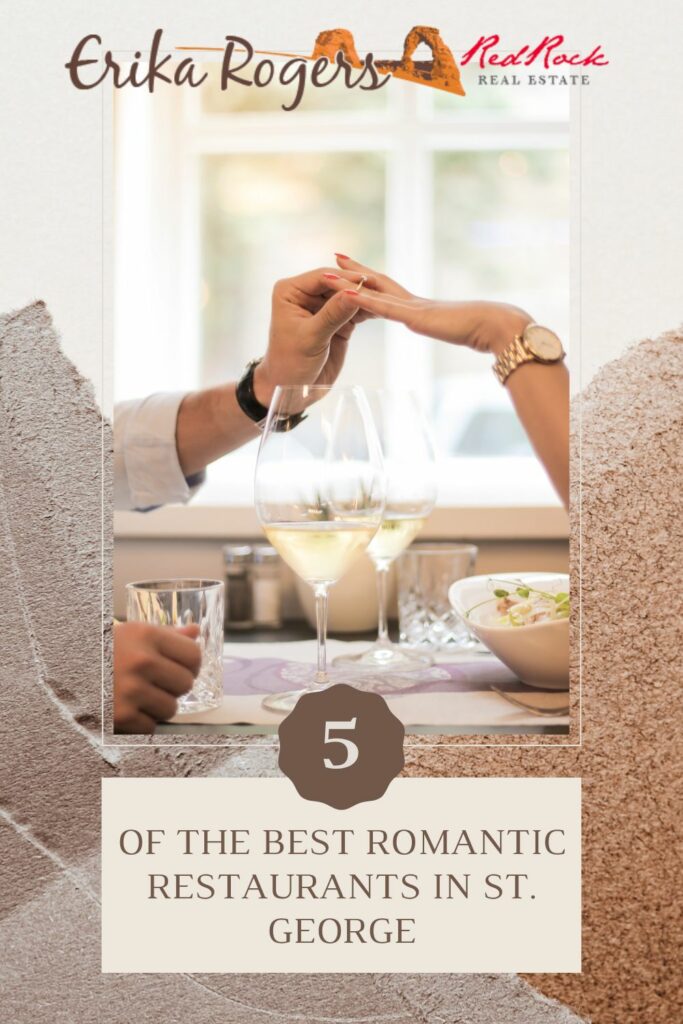 The Best Romantic Restaurants In St. George – If you are a resident or even if you are just visiting St. George, you have to visit one of the top most romantic restaurants in the city. With Valentines Day coming up, you might be looking for the perfect place to take that special someone, so here are the top romantic restaurants. Check it out and be sure to make your reservations ahead of time.
Tips on Planning the Best Romantic Dinner Out:
Choose a restaurant: Consider your partner's tastes and dietary restrictions, and try to find a restaurant that caters to both of your preferences.
Make a reservation: Call the restaurant or make a reservation online to secure a table for the desired date and time.
Plan transportation: If you'll be driving, consider the route and parking options. If you'll be taking public transportation or a ride-sharing service, make sure to have the necessary information ready.
Dress up: Wear something nice and dress to impress your partner.
Consider adding extra touches: You could bring flowers or a small gift for your partner, or plan a special activity for after dinner, such as a walk in a beautiful location or a visit to a nearby attraction.
Relax and enjoy the evening: The most important thing is to spend quality time with your partner and have a memorable evening.
The Best Romantic Restaurants In St. George Utah
uses a contemporary The Painted Pony is said to be one of the best restaurants in St. George. This restaurant uses a contemporary mindset as it presents its southwestern culinary classics. The menu typically always has something new to try, so it never disappoints. They are known for using only the freshest ingredients and a great wine menu to go with it.
This is the place to go if you are looking for a great steakhouse. Anasazi Steakhouse serves hand-cut meat in a special way you find anywhere else. This restaurant is known for its unique dining experience and its ancient cooking methods. All of their meat is cooked on a hot volcanic stone. There is a variety of food on their menu so you can also enjoy seafood and chicken dishes as well.
This restaurant is known for its seasonal menus. This means you have to come back to try their one-of-a-kind meals created specifically for that season you see in. The menu is full of options that include main dishes, pastries, and excellent cocktails. All of the ingredients they use are sourced regionally. You ae sure to have a great experience in the Wood Ash Rye restaurant atmosphere.
Aragosta Restaurant
This is known as one of the most highly sought-after restaurants in St. George. You definitely want to call ahead for a reservation or you may not get a table when you are hoping for one. The menu at Aragosta is American and European cuisine combined. This place is known for its extensive wine menu, so be sure to take a look beforehand.
A classic in the romantic restaurant category is Italian. You must check out Chef Alfredos for all of your favorite classic Italian dishes. This is the best spot to cover that craving and spend a romantic evening in the Italian atmosphere. Save room for their incredible desserts while you enjoy your pasta primavera!
In Conclusion
With so many amazing romantic restaurants in St. George, you can't go wrong with planning a romantic outing in St. George. While you explore the romantic culinary scene of St. George, why not also explore its real estate? St.George has so much to offer if you are looking to buy or sell a home. For more information on St. George real estate, contact me, I would be happy to help you!
More Fun Events and Things to Do Around St. George