The Top Advice for New Homeowners
Posted by Erika Rogers on Tuesday, December 26, 2017 at 11:06 AM
By Erika Rogers / December 26, 2017
Comment
Well, you've finally closed on your brand-new home. Maybe this is your first time being a homeowner, or maybe you're just in a brand-new home in a new city or state. It's exciting, a little intimidating, and sometimes overwhelming. Instead of letting the craziness of the situation the better of you, take some advice from top real estate agents, homebuyers, and those who have been homeowners for years.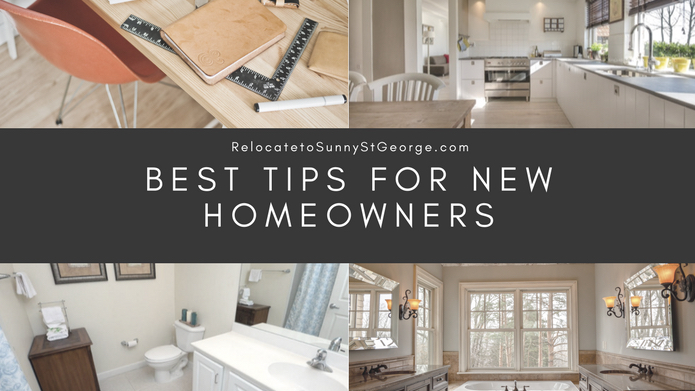 Here are some of the best tips for brand-new homeowners.
#1. Make sure you understand all of the logistics and major workings of your house.
"This means knowing where the main water shut off valve is, how to restart a pilot light on your fireplace or water heater, how to replace a filter or igniter on a furnace, where the electrical panel is and label it if it's not already labeled, and locate all of the external faucets and outlets." – Orlando Buyer's Brokers
#2. Live in your house for six months before making any big changes.
Live in your house for at least 6 to 8 months before undertaking any major renovations will have a better idea of what you need whether them what you "think" you need. What you initially think you may want to change could change after you've lived there a while.
#3. Don't let minor projects build up.
"These little projects can become overwhelming quickly. Replace light bulbs and have a good stock of extra light bulbs when needed so you don't need to run to the store every time you need to replace a socket or a light bulb. Patch holes in the walls, repair a faulty outlet, fix or repair door jams, correct squeaky door knobs and fix leaky faucets. By not allowing these things to add up you'll feel more on top of your home and more satisfied with your purchase overall." – Peter Westbrook Cash Home Buyer in Sacramento
#4. Have a reserve account.
You probably accompanied your inspector through the home making notes of items and appliances that may need replacing in the near future. Start developing a reserve account for these items or any emergencies that come along. Ideally, you should have 3 to 6 months worth of income set aside, but because that may seem impossible right out of the gate, have at least $1000 in a reserve account for any emergencies that come along.
#5. Think about a home warranty.
"A home warranty doesn't just have to be an incentive for sellers to get you to buy their home. A home warranty can be purchased after closing and can cover any major issues or appliance malfunctions within the next year. These typically only cost $150-$400 depending on the type of coverage but it can be a great way to give you peace of mind in case anything breaks that was not planned for." – Golden Beach Realtor Leonard Woshcyzn
#6. Talk to your neighbors.
"Talking to your neighbors is a great way to get to know people in your neighborhood as well as little secrets that could take you months to figure out. This might be an easier way to get out of the neighborhood in bad weather, local crime rates, the best schools, where they shop, where to get the best deals, or advice on a Neighborhood Scout website where people can post lost and found, references to repair places and other advice. Not only will you get to know your neighbors, but you will have the secrets immediately that they may have taken years to develop." – Jasper – Woodinville Tree Service
#7. Change the locks.
"You never know who has a key to your house out there from previous owners. It's a good idea to change the locks throughout the entire house the first week you move in. This is not to stress you out, but, give you peace of mind. Don't forget locks on outside garage doors and lockable screen doors as well." – Walter Northfield King County Property Management
#8. Make the home secure.
Not only should you change the locks, but check all the doors and windows to make sure their locking mechanisms work properly. You may change the locks but completely forgot about the downstairs window that easily slides open because the lock is broken.
#9. Check for leaks.
"If you have a home inspection, the inspector should have checked for this as well, but things can happen between inspection and closing. Go through the house and check all toilets and under-sink plumbing for any leaks or constant running. Check the faucets, and if possible, rent or purchase a water meter to check floors, attic spaces and ceilings to verify there are no additional leaks you can't see." – San Ramon Realtor Dale Corpus
#10. Set up a homeowners checklist.
"Make a homeowners journal that keeps insurance papers, repair receipts for tax purposes, advice you get from neighbors on who to call for repairs, local babysitters, home improvement phone numbers and emergency numbers. Keep it in a binder by the phone or someplace that everyone in the house can find easily. This can also be a sales 'plus' when selling the home later." – Jane Goodrich – New York Photography
This combination of advice from homeowners, Realtors®, and previous buyers can give you a sense of accomplishment, contentment, and satisfaction. I want you to love your home and not be overwhelmed by all of the little details that come along with owning and unpacking a brand-new house.
Have another tidbit of information? Tell me below and I'd love to add it to this list! Ready to buy or sell in St. George? I'm your gal! Give me a call or click through my website for more information and all the latest listings in our area.