Tips to Keeping Your Home Staged While on the Market
Posted by Erika Rogers on Monday, February 26, 2018 at 10:41 AM
By Erika Rogers / February 26, 2018
Comment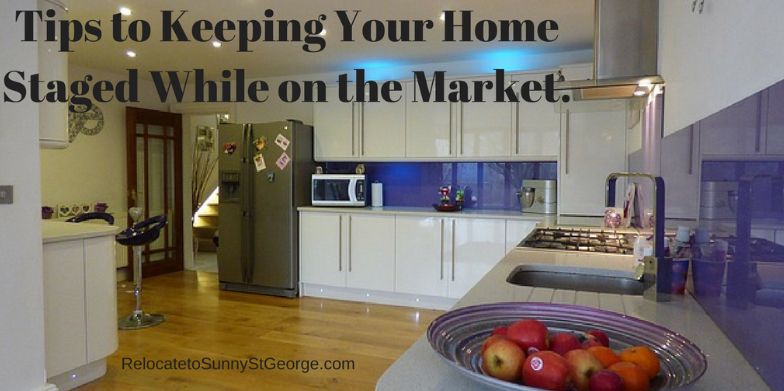 Tips to Keeping Your Home Staged While on the Market – Staging and preparing your home for sale may not be the hard part; keeping it staged is a whole other situation. If you have children, it can be even harder to quickly drop everything and entertain a showing.
As nice as it would be to prepare the property, list the property and get an offer proceeding to pending the week after, the reality of that is unusual. But, if you're trying to sell your home you do need to keep it staged, at least to the point that you could pick up quickly should you have a showing in less than an hour.
Here are some simple tips to keep your home stage during the listing process.
Pack up about half of your items. The more "stuff" you have the harder it is to keep an area clean. Packing up seasonal items that you won't be using for at least 6 to 8 months, half of the clothes in the closet, and about half of your dishes and utensils will make fast cleanup much easier. You will be packing these items anyway, so anything you have not used within the last six months, carefully pack into a box and either put it into storage or neatly into the garage. (Buyers don't want to see a lot of clutter in the garage either because then they might feel there's not enough room inside the house to hold all of their things.)
Remember to put things away after use. This alone can simplify your life no matter if you're selling or not. When you're done with the dishes simply put them away, clean up the counters, and wipe down tables and chairs so that the home is show-ready after every meal.
Put away items and play toys when done with them. Having neat containers to hold all of your items and your children's toys will make tidying up much faster.
Instruct everyone to make his or her bed first thing in the morning. There's nothing more stressful than running around making beds and fluffing pillows at the very last minute. Have everyone's rooms show-ready by the time they go off to school or work.
Keep a separate bin or box for the necessary paperwork. Bills, letters, and school projects may need a place to collect during the staging process. Have an organized space or custom-designed bin specifically in place for these types of papers. Everything can go neatly into the box so it's not scattered around the room.
If you leave the home every day for work or school, make sure your home is show-ready by closing all of the toilet seats, straightening all the bathmat and towels, closing any cabinetry, closets or doors, keeping fresh flowers on the table, and opening all the blinded draperies to let in natural light.
If you can afford it, you might consider a professional house cleaner each week while your home is listed.
For more information on tailoring the staging of your particular ST. George home, give me a call today.
If you liked this post, you may love these:
Does an HOA Increase Property Values?