Try These Restaurants in St. George for Your Next Date Night
Posted by Erika Rogers on Friday, August 18, 2023 at 2:39:20 PM
By Erika Rogers / August 18, 2023
Comment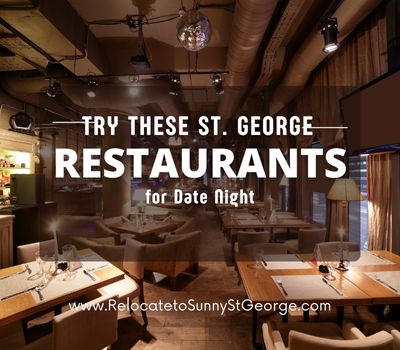 Living in St. George provides access to a diverse culinary scene with a range of dining options. Whether you're craving southwestern flavors, international cuisine, or classic American dishes, you'll find a variety of restaurants to choose from.
The more you learn about St. George, the easier it is to see why so many people choose to move here or plan to retire in the area. To learn more about homes for sale in St. George, contact us any time.
Want to check out what the local culinary scene has to offer? Try one of these restaurants on your next date night.
Cliffside Restaurant
Located at The Cliffrose Lodge & Gardens, the Cliffside Restaurant offers stunning views of the Virgin River and Zion National Park. The menu features a blend of American and southwestern dishes, with an emphasis on locally sourced ingredients.
You will love this upscale casual option for a date night, situated on a cliff above the boulevard to provide a scenic and romantic setting. Try their heirloom tomato toast, chili glazed salmon, or ribeye steak burger.
Anasazi Steakhouse & Gallery
Anasazi Steakhouse is known for its high-quality steaks, seafood, and creative cocktails. The restaurant has a rustic yet elegant ambiance, and it often features live music and a unique art gallery.
Guests can cook their own steaks on volcanic rock, a 700 degree lava granite composite stone brought to the table that makes for entertainment, education, and a delicious meal.
George's Corner Restaurant
This casual and family-friendly eatery offers a diverse menu with options ranging from sandwiches and burgers to salads and southwestern-inspired dishes. George's Corner also has a selection of craft beers and wines, and is a local favorite that has been serving the community in downtown St. George since the 1930s.
Painted Pony
A fine dining establishment in downtown St. George, Painted Pony is celebrated for its upscale menu featuring locally sourced ingredients. The restaurant specializes in modern American cuisine with a southwestern twist.
Their menu of contemporary cuisine evolves with the changing seasons, but you'll always be able to find something you love.
Benja Thai & Sushi
For those craving Thai or Japanese flavors, Benja Thai & Sushi is a popular choice. The restaurant offers an extensive menu of traditional and contemporary Asian dishes, from curries to fresh sushi rolls.
They operate two locations in St. George, so you can satisfy your craving on either side of town.
The Pasta Factory
If you're in the mood for Italian, The Pasta Factory serves up delicious pasta dishes made in-house. From traditional spaghetti and meatballs to specialty dishes, you'll find a variety of options to satisfy your Italian cravings.
Located in the quaint Ancestor Square in downtown St. George, you can enjoy a walk before or after dinner in the charming area.
Xetava Gardens

Cafe or Xetava Bar & Kitchen
Situated in Ivins, just outside of St. George, Xetava Gardens Cafe offers a unique dining experience with its garden setting. The menu features fresh and organic ingredients, and it's a great place to enjoy a peaceful dinner.

Located in the same building, Xetava Bar & Kitchen offers hearty entrees and refreshing handmade cocktails in a trendy yet comfortable space. Surrounded by the Kayenta Art Village and Center for the Arts, it is easy to plan a date night around the artistic displays right outside.
Ready to learn more about moving to St. George? Contact us any time.