Water Recreation In St. George Area
Posted by Erika Rogers on Friday, May 29, 2020 at 12:11 PM
By Erika Rogers / May 29, 2020
Comment
On a hot day in southern Utah, nothing is more inviting than a cool swimming hole. Whatever your preference, sunbathing on red sandy beaches, cliff jumping into refreshing waters or exploring the hidden pools and waterfalls in slot canyons, there is a water adventure for everyone to enjoy. In or near St. George you'll find opportunities for everything from water skiing on spacious lakes to fishing for rainbow trout and huge bass, exploring hidden coves by tandem kayak to the peaceful pace of paddleboarding.
Favorite Waterfalls and Swimming Holes
You'll find that most of the best swimming holes in the area are found under beautiful waterfalls. One of these favorites is the pool found blow Toquerville Falls, just a short distance Northeast from St. George. The location is a little challenging to reach as access is by a rough dirt road, but it's well worth the drive. There you will find the river cascading over stair step-like layers of rock and over a shelf into a deep pool, carved out over the years.
Another favorite in the area is found in Red Cliffs Recreation Area. To get there you hike an easy trail that runs up a canyon. At the end, you'll find a small waterfall flowing into a natural pool and a slippery chute that forms a perfect water slide.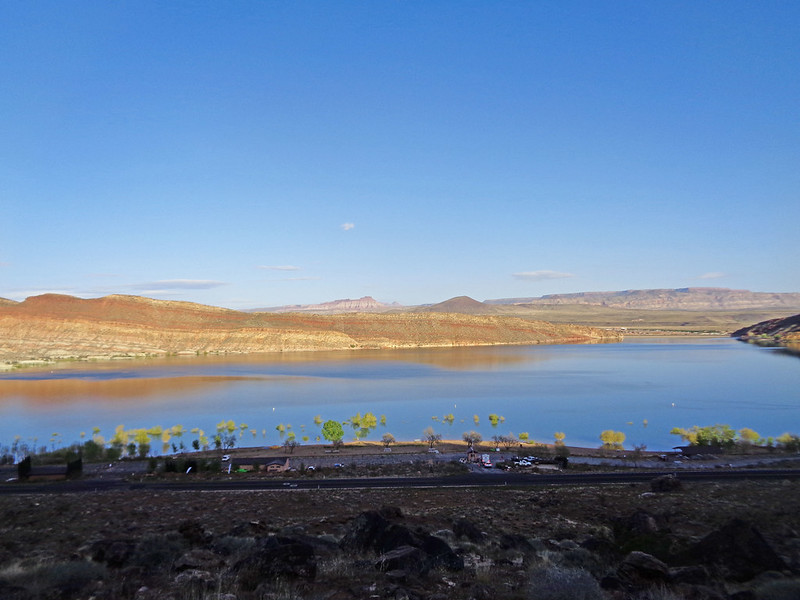 Quail Creek State Park
Just a quick 12 mile drive away from St. George, Quail Creek State Park is the home of Utah's warmest outdoor water. For those who enjoy water skiing and other activities that require it, motorboats are allowed. It is also a good place for kayaking and stand-up waterboarding. On the west side of the lake you will find swimming beaches but be prepared with the appropriate footwear for the coarse sand, it can be rough or bare feet. Quail Creek is also popular among fisherman, big mouth bass, bluegill, sunfish and crappie are commonly caught there but it's best known as the area's best rainbow trout fishery. Image by Andrey Zharkikh
Sand Hollow State Park
At twice the size of Quail Creek Reservoir, Sand Hollow Reservoir has space enough for everyone to enjoy and is one of the most popular lakes in Utah. There you will find expansive, red sand, beaches separated by rock outcrops, towering over the water, and sandstone islets dotted about. The south shores are a perfect place to enjoy the sun on a shoreline boulder and is ideal for kids to play on the beach and swim. Rock outcrops form peaceful areas for kayaking and paddle boarding and there are several cliffs over deep water that are enjoyed by cliff divers. Sand Hollow Reservoir is also popular for water skiing, jet skiing and other watersports. Fisherman come to the reservoir to catch crappie, bluegill and trophy-size largemouth bass. For anybody who wants to make it an overnight adventure, there are two campgrounds on the Reservoir.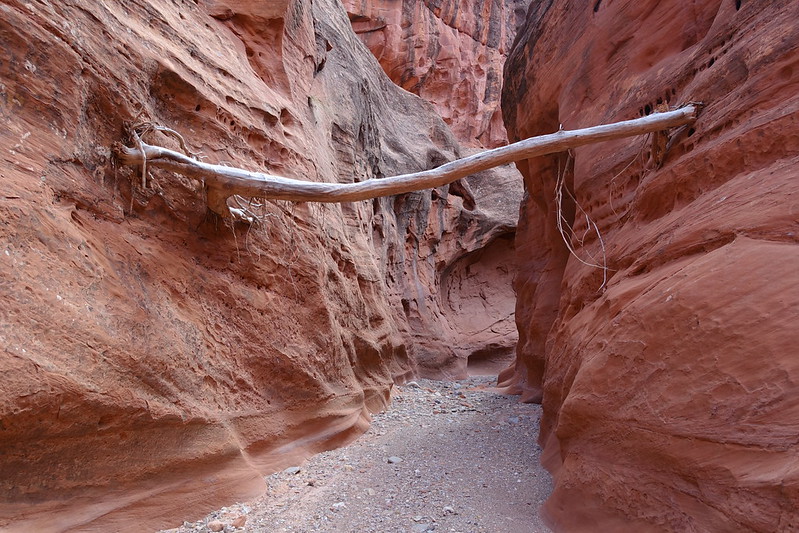 Exploring Slot Canyons
Among the most alluring adventures to be found in southwest Utah are there many Slot Canyons to be explored. Ranging from technical challenges such as repelling down waterfalls to easy canyon routes that involve hiking and wadding, there are canyons for everyone to enjoy no matter their level of skill. If you don't have the skills or equipment but want to explore more challenging canyons, you can hire a local guide to safely lead you on the adventure. A local favorite near St. George is Yankee Doodle Hollow, it has a high repel and stunning narrow, slots. Not far away, you will find Bitter Creek which has a short canyon that's good for beginners. It's hard to find a more pleasant or exciting adventure on a hot, St. George, afternoon than splashing depths of a beautiful slot canyon. Be sure to bring water shoes or sandals and have fun.
More on St. George