What Are Buyers Looking For In 2023?
Posted by Erika Rogers on Sunday, January 15, 2023 at 1:11 PM
By Erika Rogers / January 15, 2023
Comment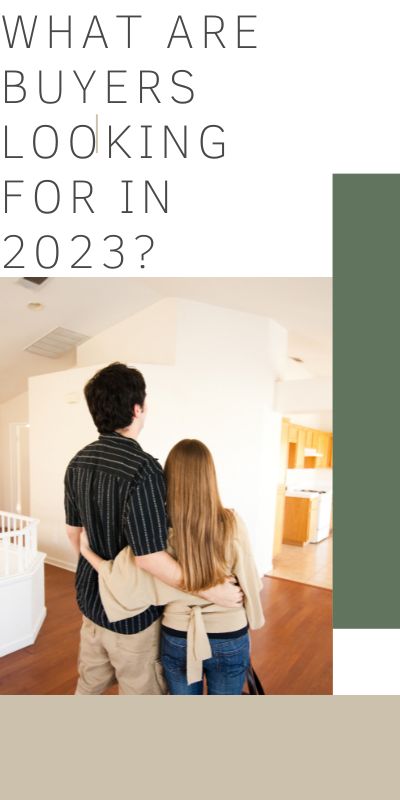 What Are Buyers Looking For In 2023 – Are you considering the sale of your home? Are you a first-time buyer? Either way, you might be wondering what the current trends are when it comes to the desires of buyers in the 2023 market. Some of these may surprise you while others seem obvious, so let's dive in.
What Are Buyers Looking For In 2023?
Affordability
The market has been a little rough for buyers in the past could years, but that is a whole article in itself. Due to the market favoring sellers, we are seeing that buyers are looking for affordability in 2023. High-interest rates and a low inventory are certainly not helping buyers get the affordability they are looking for. Current buyers are even willing to look beyond their initial radius to achieve more affordability in the home they are looking to purchase.
Storage
As far as home features, storage is among the top things that buyers are looking for in a home. This is crucial for a lot of buyers because we are seeing a lot of multigenerational living under the same roof, which requires a lot of storage. Buyers are looking for creative ways to live in a home so if you are selling with a carefully thought-out kitchen or closet area that has a lot of storage space, you will look good to potential buyers. Walk-in pantries are at the top of the list when it comes to kitchen storage.
Neutrals
If you are walking into a home you are trying to envision as yours, you are looking for a blank slate. Buyers are looking for neutral colors on the walls and in the countertops and cabinetry throughout the home. This gives a cohesive flow as potential buyers tour your home.
Patio & Deck
Buyers desire their home to be an oasis from the hustle and bustle. Patios or decks that are covered or even uncovered add additional outdoor living space to the property. Outside time in the sun offers a lot of health benefits and a patio or deck provides an inviting place for you to enjoy the outdoors.
Outdoor Entertainment
Along with your patio or deck, you will attract buyers if you have additional outdoor entertainment. This can be an outdoor kitchen, fire pit, or even yard games strategically placed. Anything that creates fun additional living space is attractive to buyers. Even creative seating in the backyard that is a part of the home, like concrete, can make a home stand out among the rest.
Open Floor Plan
This has been a popular trend for a while now, but open floor plans continue to be something buyers are looking for. This means that your home has minimal walls throughout and the kitchen, dining, and living rooms are open to each other in some capacity. There is a better use of square footage in your home with an open floor plan.
In Conclusion
To start the process of buying or selling a home in the St. George area, contact me. I would love to help you navigate your home desires in the 2023 market.