What are St George Utah Winters like?
Posted by Erika Rogers on Tuesday, December 27, 2016 at 4:03 PM
By Erika Rogers / December 27, 2016
Comment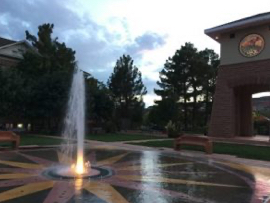 What is winter like in St George Utah? I have a lot of "out of state" clients contact me in regards to buying a home here in St George. Almost always, they want to know what winters are like in St George. Many of my clients are retirees looking for pleasant year round weather allowing them to golf, hike or bike whenever they'd like. Whether they're coming from the mid-west, northwest or back east, this seems to be a common denominator.
Because St George is located in the desert (yes, I said desert), we usually have clear blue skies and lots of sunshine, year round! We're just a warm little corner in the southwestern part of the state and our weather is not your typical Utah weather. St George is just a few miles from the Nevada state line so our weather tends to mirror Las Vegas rather than anywhere within Utah. Our winters are generally mild and we do have hot summers. It's said that St George enjoys over 300 days of sunshine a year. It's rare to have a gloomy day and we appreciate the occasional rain showers when they come.
The temperature ranges from a low in January and December of 31°F to 102°F in July. The elevation in St. George is 2,880 feet above sea level. If you need a break from the heat in the summer you can visit the Pine Valley Mountains which rise to over 10,000 feet and are only a 20 minute drive from town.
I hope this gives you some insight to winters in St George Utah. If you have more questions feel free to give me a call, I'm happy to help!
For more information about St George Utah visit the Chamber of Commerce website here-http://www.stgeorgechamber.com/