What to Look for in a Vacation or Second Home
Posted by Erika Rogers on Friday, June 15, 2018 at 9:39 AM
By Erika Rogers / June 15, 2018
Comment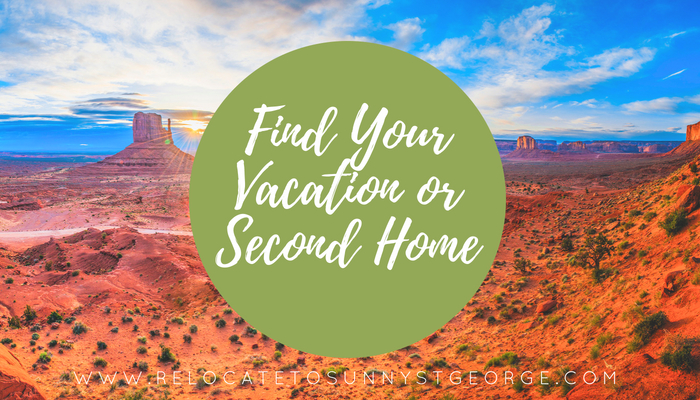 With the economy the way it is there's been more of an inclination to find second homes or vacation properties. St. George Utah has been a popular spot for vacation homes over the last few years and I've helped several buyers find a great second home for either renting out throughout the year or simply using at their leisure. If you've been considering buying a vacation or second home here are some tips I'd like to share with you.
#1. Evaluate your needs and long-term goals.
Why are you buying the property? Will it suit your lifestyle? Are you looking for just a weekend getaway or staying several weeks at a time? It's important what your endgame looks like so that you make a wise purchase now that will benefit you for years to come.
#2. Get to know the area and find a local agent.
Our area is beautiful but there are stunning vacation homes in Hurricane and Washington so St. George might be an option but you might find exactly what you're looking for in one of our other villages and cities. And, having someone local that understands the market in all of these different areas is essential to making sure you get a good deal.
#3. How much maintenance do you really want?
A condominium or townhouse might be better suited for a vacation home is there's not a lot of exterior maintenance and the maintenance that is there is handled by the Association. How much time are you willing to devote to maintenance, curb appeal, or even interior maintenance? Will you be hiring someone to take care of the property when you're not around?
#4. Consider additional expenses.
You may be able to buy the home outright but you will also have taxes, insurance, and any other maintenance. Make sure you have the right type of insurance for the property and if you're not planning on being there year-round, you may want additional insurance to handle it floods, or any other unforeseen issues.
#5. Are you considering fractional ownership?
You might consider going in with another family or two or three people to split the cost and pool resources. This is a great way for everyone to pitch in and maintain the property without the full cost of maintenance and upkeep.
#6. Shop around for good mortgage.
Because this is your second home or a vacation property your interest rates may be higher so it's important to shop around for a good loan if you plan on borrowing money to buy the property. Mortgage interest rates are usually determined by the home price and the size of the down payment so lenders will also take a close look at your credit score and history.
Related: How to Finance Your Dream Home
Again, the St. George, Hurricane, and Washington areas have beautiful properties perfect for investments, rentals, second homes, or vacation properties and I'd love to show you some of the neighborhoods around our area. Start browsing on my website for free or simply give me a call and let me know what you're looking for. I can email or send you a list of all the properties that match your search criteria and budget.