What to Look for When Buying Land in St. George
Posted by Erika Rogers on Friday, November 3, 2017 at 11:30 AM
By Erika Rogers / November 3, 2017
Comment
There are plenty of vacant land opportunities around St. George Utah and if you're planning on custom building your own dream home, there are some things to look for when buying a property or vacant parcel of land.
Here are some of my top tips to look for when buying vacant land or parcel of land to custom build upon.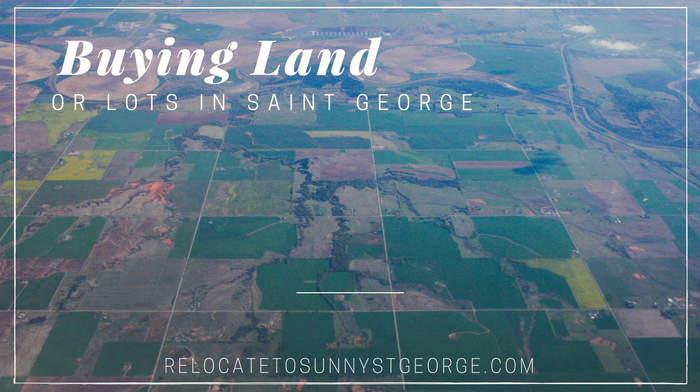 #1. Location.
Is the land close to any other utilities, easements, or access to roads? Will you be using other peoples easements to access your property? Is the location the proper distance from town or modern conveniences that you need to access on a regular basis? Do you have the privacy you really want? What about your neighbors; are you far enough or close enough to your closest neighbor? What about the school district, crime in the area, and location to train tracks flight patterns?
#1. Zoning requirements.
You'll need to check with local authorities (something that I can do for you as your agent) and determine proper zoning ordinances on whether or not you can build the type of home you want before committing to buy the property. There are certain permit construction requirements for the size of structure or home improvement on land so you'll need to make sure that the land you are interested in is appropriate for the house you want to build.
#2. The hazards of location.
Once you determine a lot about the location, take a look at a from different perspectives and during different times of the day. Other exhaust fumes from city buses or other exhaust issues, smells and sounds that will be offensive to you once you move in? Other hazards such as asbestos in the rocks or soil?
Read More: Is Now the Time to Buy?
#3. Easements.
As I mentioned before, will you need to obtain an easement to the property from someone else? How long will that easement master? What about adjoining properties and the boundary surveys or rights you have over the other neighbor? Are boundaries clearly marked? You want to make sure you get a title insurance policy, which will disclose any easement and restrictions that may apply to this property.
#4. Utilities.
Find out how involved you want to be in installing utilities. His water and power already accessible from the property or will you need to install it from the city? Are you planning on drilling a well and/or septic tank or will you be using city utilities? Not all water is possible and sometimes water rights don't convey with the land. Make sure you understand your water table and where you will be getting water, power, and eliminating sewage before you finalize the sale.
#5. History of the property.
This is a brand-new parcel that has been divided up an underdeveloped? Has the property been conveyed several times? Be interesting to dig up the title information on the property so you are well aware of previous owners and their intentions on the property.
#6. Don't overpay.
It's not uncommon to pay cash for land but many people may finance the construction of future improvements so you want to make sure that the property appraises for an appropriate value and you're not overpaying for the land. Find an appraiser that is well familiar with land appraisals as it can be somewhat difficult to find comparable sales in the area.
If you're looking for land, parcel, or lot throughout the St. George Utah area give me a call. I'd be happy to send you a customized list of land and property that might meet your search criteria and price. Feel free to ask me any questions you might have on the land or lot and I can offer experienced knowledge in buying this type of property. – Search all St. George Real Estate