When Moving to a New Home, Have the Carpets Cleaned
Posted by Erika Rogers on Friday, April 13, 2018 at 10:22 AM
By Erika Rogers / April 13, 2018
Comment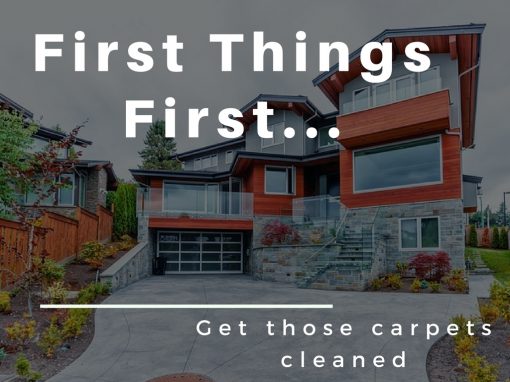 It's spring, the height of real estate season. Many people purchase "new to them" homes that could use a bit of sprucing up after the old owner leaves and before they move in. Getting your new home in pristine move in ready condition can be a lot of work; from painting to cleaning, to moving items in, to organizing and putting it all away.
Though you may just want to do whatever it takes to get into your home as quickly as possible once you receive the keys, it is a great idea to get your new home actually looking new before you bring all your belongings in. It is much easier to scrub a home from top to bottom without all the boxes inside.
Read More: 30 Moving and Packing Hacks to Make Your Life Easier
One of the best things you can do before moving all your heavy furniture into your home is having your carpets professionally cleaned. The best way to ensure every inch of carpet in your home is clean and sanitized from whatever the previous owners may have left behind is with a professional deep cleaning of empty rooms. Even if you purchased a home from the cleanest of people the only way to be sure the floors are fresh is to hire a professional carpet cleaner and have the whole home deep cleaned. It is also a great idea to have tile and grout deep cleaned as well.
Finding a Carpet Cleaner in Your New Area
If you are moving to a new area knowing how to find a reputable carpet cleaner may seem like a challenge. Hiring a carpet cleaner takes more than just picking up the phone and dialing the number of the closest cleaner to your new home. You want to make sure you are hiring a company with trained cleaners that guarantees their work. Here are some things to do when hiring a new carpet cleaner.
Look them up online- that's right google companies in your area. Read all you can on their website about their cleaning process, their employees, their satisfaction guarantee, etc. After you have done that google the company name itself and find real customer reviews.
Call them directly and ask lots of questions- a great carpet cleaner will have great customer service and be more than willing to answer any questions you have. Some great questions to ask include 1. What is your cleaning method? 2. What cleaning products do you use? 3.What training process do your employees go through? 4. Do you guarantee your work in writing? 5. Can you provide proof of license and insurance?
Ask about their quote process and if they would be willing to give a quote in writing before cleaning- some companies get you with hidden fees that you don't expect and surprise you when you get the final bill.
Thank you to our guest blogger this week: If you just moved and are looking for a north Seattle carpet cleaner, give All Kleen a call. We have been in the carpet business for over 30 years and are happy to answer any questions you have from our cleaning process to our products to our customer satisfaction guarantee.