Why Do Some Homes Sell Faster Than Others?
Posted by Erika Rogers on Tuesday, April 24, 2018 at 10:20 AM
By Erika Rogers / April 24, 2018
Comment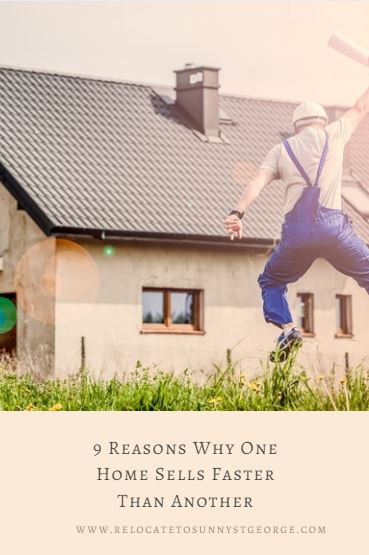 Do you ever wonder why one home in a neighborhood sold faster than another? It's not necessarily the price, however, that definitely is a factor. But, whether you've been trying to sell your home for several months or just trying to prepare so that it's not on the market forever, there are some ways to make your home stand out from the crowd. Here are nine reasons why some homes sell faster than others.
#1. Curb appeal.
Curb appeal may be one of the number one factors affecting the amount of time a home is on the market. If it looks great from the outside you'll get more people on the inside. MORE: 6 Curb Appeal Hacks to Offer the Best Return
#2. Local school ratings.
While we can't tell you which neighborhood is better than another, we can steer you towards the direction of finding out the information for yourself. Homes in good school districts tend to sell faster and at a higher price. In one study by Realtor.com, buyers said they'd pay 6% to 10% above their budget for the right school district.
Read More: 30 Relocation Tips to Make Moving Easier
#3. Move in condition.
If homes are ready to move in they can sell 12% faster than those that will need a little bit of work.
#4. High-quality photos.
Homes that were marketed with professional photographs sold faster and for up to $3400 more than those presented with amateur photos.
#5. Staging.
Staged homes sell up to 73% faster than those that are not staged. Something to consider for sure. Read More: How to keep your home staged while on the market
#6. Virtual tours.
Adding a virtual tour to marketing decreases sales time by up to 20% and can increase the price by about 2%.
#7. Design features.
Homes that are marketed with specific features can sell anywhere from 38 to 63 days faster including a farmhouse sink, subway tile, quartz counters, a barn door, shaker cabinets, pendant lighting, exposed brick, frameless shower, stainless steel appliances, and tankless water heater.
#8. Proper pricing.
Homes that are priced slightly below market value are almost 50% more likely to sell within the first 60 days than those priced 12% or more above market value.
#9. The right agent.
An experienced agent who knows the market and may also have a network of potential buyers can help sell a home 32% more quickly than an inexperienced agent.
Start with these nine tips to get your home sold faster because nobody wants to be on the market any longer than they have to. If you're ready to sell give me a call. Let's talk about home pricing and getting your home in St. George ready to sell.