Why I Can't Tell You the Best Place to Live
Posted by Erika Rogers on Tuesday, June 12, 2018 at 9:45 AM
By Erika Rogers / June 12, 2018
Comment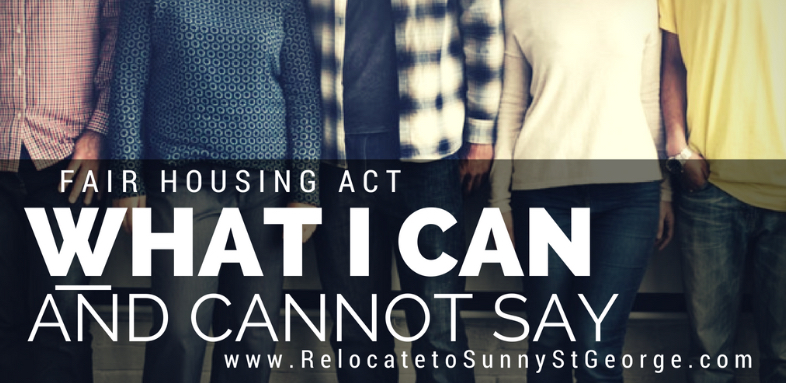 You've probably seen this symbol on real estate websites, mortgage websites or commercials but not really understood what it meant. This equal housing opportunity means that "property owners and managers are subject to the federal Fair Housing Act, which prohibits any preference, limitation, or discrimination because of race, color, religion, sex, handicap, familial status, or national origin, or intention to make such preference, limitation or discrimination." These seven protected classes for fair housing means that I need to be very careful about how I sell property and show property.
I've had people ask me what's the best school district, what's the best neighborhood, where should we live in St. George? But that's really a loaded question. I can't tell you this is the best neighborhood or that's the best neighborhood because and I would be steering you towards one direction or another. I know it might sound silly, but any type of "steering" by having preference over one place versus another, could mean that I am discriminating against either my client or the people living in other neighborhoods.
But there are some ways around it, without breaking the law at all. There is a myth going around that the Fair Housing Act prohibits the use of any words or phrases that could offend someone or the could suggest that describing the style or configuration of a property might be an indication of a prohibited preference for one sort of person rather than the other. In our society where it seems like we can sneeze and offend someone, this is a fine line but it's also not as difficult as it sounds. We simply must be careful and considerate when talking about certain properties or neighborhoods. Here are some of the things I cannot tell you.
#1. Race, color, or national origin.
I cannot tell you that one neighborhood is particularly ethnic or another neighborhood is particularly white. That would be discrimination and it would be steering whichever client possibly towards one neighborhood or the other. By talking about the status of a particular neighborhood, I am a, in fact, showing discrimination one way or another. Even if I am telling you how amazing the neighborhood is and it might work with your family best, I'm discriminating against all the other neighborhoods that may not work for your family.
#2. Sex and familial status.
I really can't say that a neighborhood would be good for families because that I'm discriminating against single people. But, using terms to describe the property such as two-bedroom, cozy, family room, or quiet streets, is in no way discriminating against anyone that might want to live there.
#3. Religion.
It's a fact that in many major cities around the country there are different pockets for different religions but it is against the Fair Housing Act for me to tell you where those places are. Any advertisements or communication should not include an explicit preference, limitation or discrimination on the account of religion. This even means that homeowners cannot advertise their properties as "no Jews" or "Christian home". Any type of descriptions containing these words are a violation of the act.
#4. Handicap.
Advertising a home where it would benefit someone without a handicap versus someone with, would be in violation, but talking about a great view, fourth floor walk-up, walk-in closets, or even things like jogging trails nearby, do not violate the act. You're simply stating what the property has resident discriminating against someone that may not be able to actually use those jogging trails.
So here's what I can do; I can provide you with the information where you can do your own research. If someone asked me where the best school is, I will refer them to a website such as great schools.org where they can research schools in a particular neighborhood or within a district and discover the information for themselves. I can tell them to tour the neighborhood at all times of the day or evening to find out if the neighborhood would work for their lifestyle. I can point them towards crime and safety websites so that they can research for themselves whether the neighborhood is considered safe for their standards. I cannot outright tell them where the best neighborhood is because then I would be discriminating against any other neighborhood and possibly a person.
Yes, I know, it is an interesting world in which we live and as a real estate agent it makes it even more tricky on what we say and how we should say it. But trust me, I want you to find the best house and I will do whatever means necessary, this side of the law and rule, to help you find it.