Why Summer is the Best Time to Sell Your House in St. George
Posted by Erika Rogers on Monday, May 29, 2023 at 10:36:29 PM
By Erika Rogers / May 29, 2023
Comment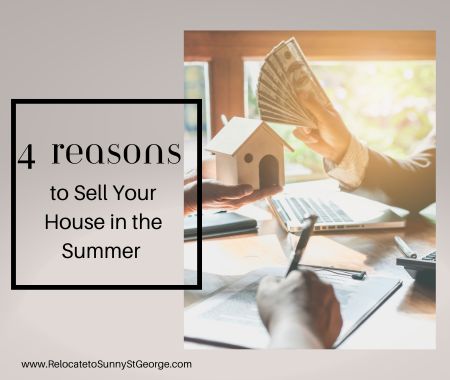 Are you considering selling your home in St. George? You may have heard that summer is the best time of year to sell your home, and while there are always exceptions to the rule, that is often true.
For help selling your home in St. George, contact us any time.
Here are 4 of the reasons summer is the best time to sell your home in St. George.
1. There are more buyers on the market
Summer is a more convenient time to move for many people. Kids are out of school and the weather is usually more conducive to travel and moving. It is usually the season where there are the most buyers on the market, and this provides you with an advantage as a seller. With more competition for your home, you can expect less days on the market, better offers, and more options to consider.
A successful home sale can happen any time of year, but you will likely field strong offers from multiple potential buyers when you choose to list in the summer. Your buyers are motivated to settle into their new home before the school year begins and the seasons change, so they are ready to make quick moves.
2. Your home likely looks its best
Many homes look their best in the summer. It is easy to maximize curb appeal with flowers in bloom and a lush lawn. Potential buyers can envision themselves sitting on the patio, enjoying your backyard pool, or getting to know neighbors while the kids ride bikes.
Choosing to list your home during the summer allows the property to put its best foot forward as you emphasize natural light inside and all the exterior features as the first impression.
3. The neighborhood features are more noticeable in the summer
If you live in a neighborhood with great amenities like a playground, community pool, or other shared space, they likely look their best during the summer months. The same is true for the overall atmosphere of the neighborhood; perhaps in the summer there are kids riding bikes or setting up a lemonade stand, or your neighbors have put in some extra effort to plant flowers and clean up their front porches.
Remember, your neighborhood is a part of the picture potential buyers are taking into account when they decide if your home is the one they want.
4. Inventory remains low in summer 2023
While we have seen a bit of balance returning to the market, inventory in St. George remains low for summer 2023. This puts sellers at an advantage, offering a product for which there is significant demand.
With a bit of effort put into decluttering, staging, and screen appeal, you can set yourself up to receive multiple strong offers from the many buyers in the market for a home just like yours. Now is a great time to sell your home, and we would love to help you have a successful experience.
Ready to learn more about the market value of your home in St. George or preparing it to sell? Contact us any time.